Baldwin's Sixth Street project's first phase nearing completion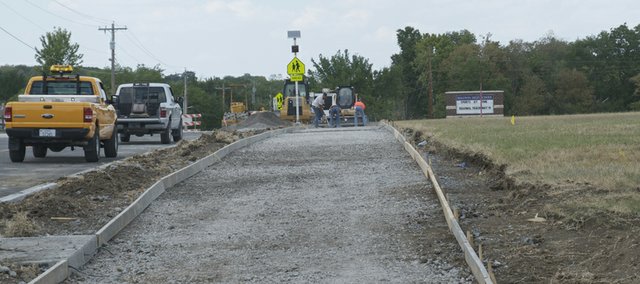 Work on the first phase of the North Sixth Street project is expected to be completed late this week.
Asphalt has been laid. Curbs, guttering and driveways have been installed. And more than half of the new sidewalks to being added on both sides of the upgraded road are in place, said Bill Winegar, Baldwin City public works director.
"They are hoping to be finished with the first phase this week," he said. "It will be close."
The city and Douglas County are sharing the cost of the $2.18 million project, which will add a turn lane and curb and guttering to Sixth Street, which also is Douglas County Road 1055, from the highway to Douglas County Route 12. The city also is spending $185,000 to install a five-foot sidewalk on the west side of the street from the highway to Douglas County North 400 Road and a 10-foot multi-use sidewalk on the east side along the entire route of the upgrade.
The project was broken into three phases with the first phase making the improvements from U.S. Highway 56 to Fire Tree Avenue. That section also happened to include access to all six business affected by the work.
With the completion of the first phase, barricades will be moved north to close Sixth Street from Fire Tree Avenue to North 400 Road's westward branch. Sixth Street will be closed at the south side of the North 400 Road intersection, allowing residents of the Fire Tree subdivision to access to Lawrence via Sixth Street, Winegar said.
Bob Pringle, owner of the NAPA Auto Parts store, 151 N. Sixth St., said he would be glad to see the barricades moved. First-phase work closed Sixth Street to thru traffic, but one lane of access was always maintained to businesses.
"We had people call who said they were going to come in but saw the barricades and didn't think we were open," he said. "It was at least 50 percent, especially in the middle when it was all torn up.
"That's a loss we'll never recover."
Pringle opposed the upgrades and still doesn't see the need for a turn lane the entire length of the improvements. But he has adopted a philosophical attitude about the end result. It looks nice and the sidewalks were long needed for the children who live in the subdivisions north of the highway, he said.
Work on the second phase should not take as long as the first phase, Winegar said. The first phase required the replacement of more driveways and was done in conjunction with construction of a new sewer benefit district and improvements to the U.S. Highway 56/Sixth Street intersection, he noted.
The goal is still to have to have all barricades down by Thanksgiving, Winegar said.