Baldwin woman 'fueled by faith' to provide free meals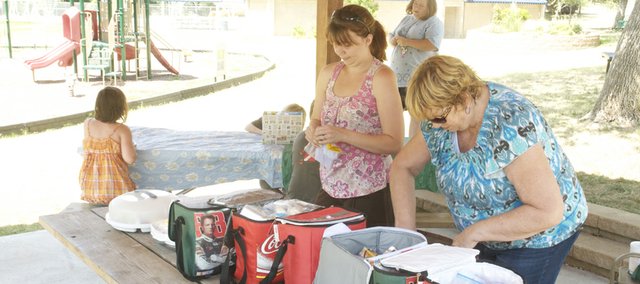 Shortly after noon Thursday, Shelley McKaig was at her usual summer weekday spot under the northeast shelter in Grove Park.
Shaded by a linden tree, the shelter on a sloping incline caught a steady southwest breeze, making it about as comfortable a place as could be found outside in Baldwin City on the brutal day, save possibly the swimming pool a half block away.
McKaig wasn't there to enjoy the shelter's relative comfort. After a brief rest, she stood up from one shelter picnic table and spread a tablecloth over the top of another. She then picked through the nine insulated bags she brought to the shelter so all would be ready for the free meals she provides weekdays during the summer.
Her timing is perfect. With the tables ready, Stacy Nesbitt arrived with her three children, Joseph, 7, Adrian, 9, and Matthew, 12, and Cindy Pappas with her daughter, Isis Erickson, 8.
McKaig immediately tempts the children with food and drink she pulls from the nine insulated bags and a Styrofoam cooler. Among the items on the day's menu were homemade deviled eggs, packaged lunch meals, peanut butter or baloney and cheese sandwiches, fresh fruit, cookies and juices.
As their children ate, both mothers said they learned of the daily free lunches from flyers at the pool. They are appreciative for multiple reasons.
"You don't want to make a big meal when it's hot, and the fact that it is free helps me tremendously," Pappas said. "Shelley's an angel."
McKaig said she served about 250 meals in the last week of June and first week of July. But Thursday wasn't a busy day for McKaig or Kim Harris, who was helping her that day. Wednesday lunches, which start when the Baldwin City Library's story time reading ends, are much busier.
"That's hot dog day," McKaig said. "We generally have 35 to 45 children."
McKaig, a mother of five who ran a daycare for 25 years, said her faith and a love of children were at the core of the daily lunches she provided near the pool to all comers.
The Baldwin City effort grew from a daily lunch program McKaig helped start in Edgerton four years ago after the unexpected death of her father, Eldon Hoyt McKaig.
"I was very upset, and I wanted to do something," she said. "God just put it in my heart that there were people who didn't have food and lunch everyday, and I always did growing up."
McKaig brought the program with her when she moved three years ago to Baldwin City. But instead of offering lunches in a church hall, McKaig decided to bring food to the children. And what better place to find children during the summer than the swimming pool?
At first, she ran the program with her own money, supplemented with the inheritance she received from her father, McKaig said. She is still paying for some food out of her own pocket, but she said donations helped.
"This year, we've gotten a lot of donations from churches, individuals, friends, word of mouth," she said. "God always provides."
McKaig provides, too. She offers lunches to families playing in the park, lifeguards and anyone who might wander by her corner location.
Although McKaig wants to help those who need it most, she isn't there to make judgments about who does or doesn't get meals.
"It's for the community," she said. "This is fueled on faith — the faith that people come and if it isn't somebody who actually really, really needs it, they'll tell somebody who does need it.
"There are a few who I know this is their best meal of the day. There's no mom or dad at home and they're living with grandparents or a single mother getting little or no help from the children's father."