Baldwin Junior High and High School football camps stress the basics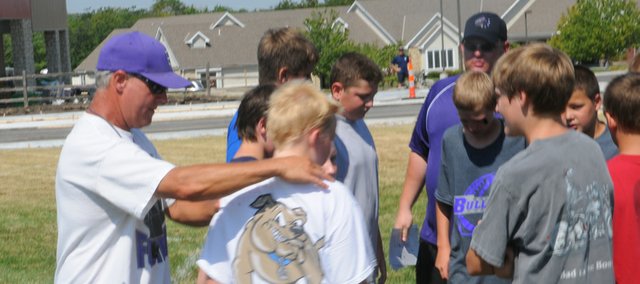 As he watched Baldwin Junior High seventh-grade football coach Jim Hartman show seventh-graders how to correctly line up in a huddle, eighth-grader Blake Adamson reflected on what he was learning on the second day of football camp.
"I'm refreshing myself on our plays and our offensive and defensive sets," said the young tight end and defensive end.
It's football camp week for Baldwin Junior High and High school students, and as Adamson observed that means different goals for different levels. But for all, it's a time to stress the basics.
Hartman said his goal was to get players new to the system familiar with basic things like how to line up in the huddle, basic offensive and defensive formations and the terminology Baldwin teams use, such as the number system for gaps and blocks.
He and other junior high coaches are also getting a feel for the physical tools of the incoming players and making the first attempt to identify whether they should be skill position players or linemen, Hartman said.
But Hartman and Bench Currie, entering his fourth year as eighth-grade coach and overall junior high coach, also believe sports on the junior high level should be fun for the players. With that in mind, they don't force players into positions or to change positions. Currie said they do assess players for their strengths and best positions and will share advice when asked, Currie said. He added some youngsters change positions when they realize there is more playing time to be had as a first-team guard than fifth-team tail back, he said.
Currie said coaches use the eighth-grade camp to refresh players on plays and basic formations, as Adamson said. He also stresses fundamentals.
"It gives us a fundamental base to work off of for Aug. 13, the first day of practice," he said.
The five-day summer camp gives Baldwin High School coach Mike Berg and his staff an opportunity to address things more intensely that they have been instilling in players in two-day or three-day a week practices throughout the summer.
"Our goal coming in is to teach our guys our philosophy — what plays we'll run next year and getting better at our techniques of blocking and tackling," he said.
The coaches will also stress how the players should use their hands.
"That's a big thing in football," Berg said. "You block with your hands; you tackle with your hands."
About 45 of the 55 to 60 players Berg expects to be on the team in a month are attending camp.
"Forty-five is a good number," he said. "We have a few guys on vacation with their families. We encourage that, Time with their families is important."
With the amount of time coaches can now spend in the summer with players, it might be assumed there would be few surprises at camp. But Berg said coaches were in for one surprise.
"The big surprise is how good our freshman class is going to be," he said. "We knew they were good. They were undefeated in the seventh and eighth grade. They are very athletic and very football smart.
"We knew they were good, but seeing them in person, they are better than expected."
Hartman, Currie and Berg all joked about scheduling the camp during a week of relatively mild summer weather follow a stretch of days with triple-digit temperatures.
"We lucked out," Berg said. " We wouldn't have got much done except a lot of trips to the watercooler.