Baldwin City Council receptive to sculptors' public art proposal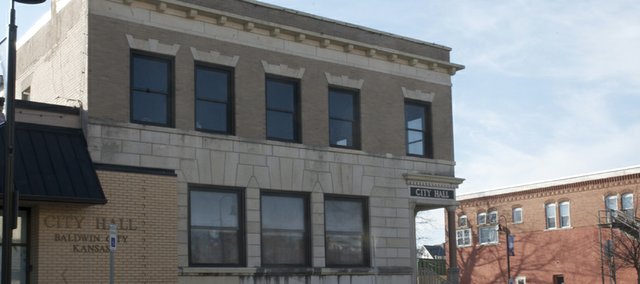 The Baldwin City Council has agreed to discuss with sculptors a proposal to create statues in downtown Baldwin City or its parks.
City Administrator Chris Lowe told the Baldwin City Council on Monday that representatives of the Kansas Sculptors Association approached Sandy Cardens, secretary and gallery director of the Lumberyard Arts Center, about bringing a public art project to Baldwin City. The association had a show featuring the work of its members last year at the Lumberyard.
In the program, sculptors with the association come to Kansas cities to create pieces at no cost, except the price of the stone and their lodging while in the community.
Lowe said the sculptors could create a work to fit a setting as small as Tom Swain Park or as large as the park near the swimming pool.
Enhancing the arts in the community, particularly downtown, was one of the topics the council discussed in recent workshops. Council members agreed Monday the request would be a good fit with that effort and gave Lowe direction to further discuss the proposal with the association.
Mayor Ken Wagener suggested the Lumberyard board members be involved in those discussions as a way for the city to broaden its partnership with that board.
Councilwoman Bonnie Plumberg said the Community Development Committee she chairs met with the Lumberyard board last month to learn what the its mission was. The visioning discussions and last year's report on tourism pointed to the potential of the unfinished theater in the Lumberyard in drawing visitors to the city.
In response from a question from Jason Mock, Plumberg said possible financial aid from the city to the Lumberyard was discussed at the meeting.