City gives Baldwin City residents treat, reminder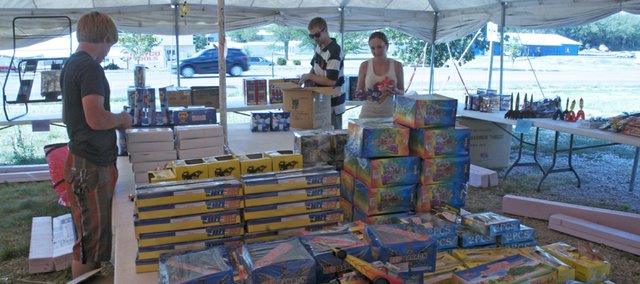 Baldwin City residents will receive an Independence Day treat and reminder from the city.
The treat will be on the holiday. The Baldwin City pool will have free admittance from 1 to 5 p.m. July with free hot dogs and other treats available.
The Baldwin City Council also provided $5,000 this year for a fireworks show, which will start between 9:30 and 9:45 p.m. Wednesday. The fireworks will be discharged on the hill west of Baldwin Elementary School Intermediate Center. Those attending the show are asked to park either in the BESIC parking lot or the Baldwin Elementary School Primary School lot.
The reminder is from Baldwin City Fire Chief Allen Craig and Police Chief Greg Neis. They remind residents that there are restrictions on the type and use of fireworks during the holiday.
Fireworks may be discharged in the city from Sunday, July 1, through Wednesday, July 4. Their use is restricted to the hours of 8 a.m. to 10 p.m. Sunday and Monday and from 8 a.m. to midnight Tuesday and Wednesday.
Bottle rockets and similar devices cannot be discharged or possessed in the city limits. Violators will be cited.
The two chiefs suggest all adhere to the Kansas State Fire Marshal's recommendations on fireworks use. They are:
• Always read and follow instructions.
• Always purchase high quality fireworks from a legitimate source.
• Alcohol and fireworks do not mix. Have a "designated shooter."
• Keep fireworks from small children.
• Adults should always supervise use of fireworks by older children.
• Never ignite fireworks indoors. Make sure your outdoor area is safe.
• Never point or throw fireworks at a person, building, or animal.
• Have a source of water handy.


• Never shoot fireworks in metal or glass containers.
• Never attempt to re-light malfunctioning fireworks.
• When lighting fireworks, never position any part of your body over them.
• Never carry fireworks in a pocket.
• Store fireworks in a cool, dry place.
• Never experiment with homemade fireworks.
• It is illegal to shoot fireworks on or under a vehicle, on any public roadway, within 50 feet of a firework stand or where fireworks are stored, and gas stations or any place liquid gas — including propane — is stored.