Baldwin High School culinary arts program: Popular, successful and threatened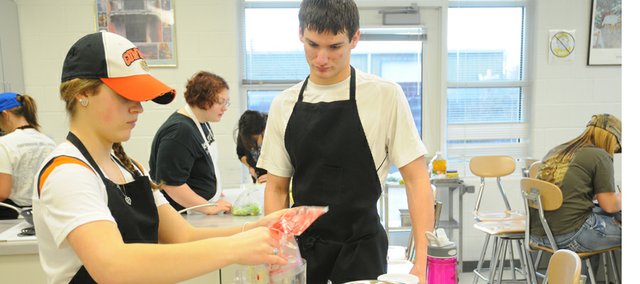 Baldwin High School's culinary arts program is popular, successful and may not be around much longer.
The threat to the program is Gov. Sam Brownback's K-12 school finance reform proposal. Should that pass as presented to the Kansas Legislature, the local program could be threatened despite its full classrooms and four state titles in Kansas Restaurant Association sponsored high school competitions in the past five years.
Although most of the focus on the governor's proposal is on its overhaul of the state funding formula, it also suggests changes to technical education.
State Rep. TerriLois Gregory told Baldwin USD 348 board members Jan. 23 that the proposed changes would help provide students the education needed to prepare them for the nearly 70 percent of jobs in the state that don't require a bachelor's degree.
"One of the high demand areas for job is in health care," the Baldwin City Republican said. "RNs don't need a bachelor's degree."
The concern is the expense of technical education, Gregory said. Brownback's plan would attempt to tie high school vocational education to the state's 26 technical schools, she said.
Should the proposal be approved, state funding would "follow the students," Gregory said.
Baldwin Superintendent Paul Dorathy said he understood the governor's goal of saving money through the consolidation of duplicate programs, but it would have consequences at Baldwin High School.
One of those would very likely be the end of the Baldwin High School culinary program, because the proposal would dictate a high school would not get state funding for a vocational program if a technical school within 30 miles distance was offering the same program.
The nearest program that would qualify for state funding offering a culinary program now is Neosho County Community College in Chanute, which is outside the 30-mile window. But Dorathy said he could foresee that school or another eyeing Johnson County and the Kansas side of the metropolitan area as an opportunity and starting a satellite program in the area.
Should the proposal pass and an area satellite program be established, it was unlikely the district could afford to offer the culinary program, or other vocational programs, without state funding.
"We could potentially lose all programs offered by a technical school within 30 miles," he said. "I can't tell you that's a good thing or a bad thing for kids. It is a significant change and will change in-house what we offer and force students to travel to get those programs.
"Right now I see a lot of issues that have to be decided on this."
Of concern would be time students spend traveling to and from a technical school. Dorathy said that could infringe of the time needed for core classes in math, science, social studies and language arts.
Gregory told the board one way to help with that dilemma was to "imbed" math and science classes in technical courses.
Dorathy explained that plan would offer "technical" math for students in technical courses. That would work for those students entering the workforce on graduation or going on for more technical training, but not for students like those in Lawson's classes who are college bound but in the culinary program to get a leg up on a part-time job or personal enrichment
"Technical math would satisfy a technical school, yes," he said. "A four-year university is not going to look at that like a calculus class.
"I think you have to be upfront with students that they will be taking courses that doesn't get them I the door at K.U. or some other state regent school."