Baldwin girls third in Wellsville Top Gun Tournament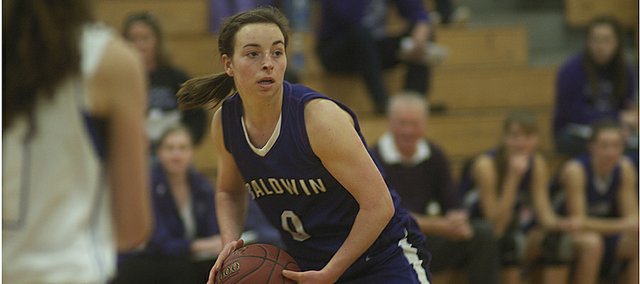 The Baldwin High Bulldogs pulled out a grueling win Saturday with a 42-29 victory over the Piper Pirates.
The win secured the Baldwin girls basketball team third place in the Top Gun Tournament at Wellsville High School and improved the Bulldogs to 7-6 on the year. The final score was deceiving as Baldwin really had to battle to earn the double-digit victory. Baldwin opened the scoring at the start of the game and held Piper without a basket till the 5:20 left in the first quarter. The first quarter ended with Baldwin leading by a basket, 13-11, which was capped off by an improbable half-court buzzer-beating shot by sophomore Katie Jones.
"You just kind of hope," Jones said. "You want to be confident when shooting it. But with stuff like that, you just hope it goes in."
The Bulldogs held onto the momentum and ended the half on a 9-0 run, making the score 22-14.
It seemed that Baldwin was poised to pull away and put Piper away, but the Pirates were not to be bullied. Piper opened the second half of play on a 9-0 run of its own, led by the excellent post play of senior Whitney Morrow and freshman Tyler Johnson. Baldwin finished with the final three points of the quarter and went into the final period with a 25-23 lead.
The Bulldogs put everything together in the final period, however, ending the game on a 17-6 run. The key for Baldwin was shutting down the post play for Piper.
"We really needed to figure out how to stop their posts," Jones said. "Their offense was their posts, so we needed to collapse on the inside, and we started doing it in the fourth quarter without fouling."
One of those drawing assignment of guarding the posts of Piper was junior Katie Kehl.
"Our third quarter was kind of rough," Kehl said. "We didn't know what quite to do with their posts. But we figured it out."
The offense came in spurts for the Bulldogs, until the fourth quarter when everything finally came together.
"We finally showed a little patience on offense," coach Bob Martin said. "We finally got some good stuff at the end and showed a little poise there."
Martin thought that if the Bulldogs could keep the movement up, opportunities would arise.
"We got some moves into the basket, we got a couple of dumps down to our posts," Martin said. "Hopefully we're starting to realize we can do that."
Moving on from their win over Piper, the Bulldogs have just one goal.
"Going undefeated from here on out," Kehl said.
The girls will return to Frontier League play Tuesday at De Soto. Tip is scheduled for 6 p.m.