Baldwin falls in Top Gun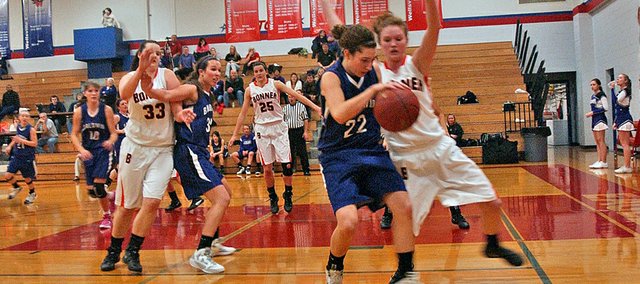 Wellsville — Bonner Springs raced to a 9-0 lead and never looked back, downing the Baldwin girls, 51-25, in the second-round the Wellsville Top Gun Tournament.
With the loss the Bulldogs will play K.C. Piper for third place at 5 p.m. Saturday.
Bonner Springs established its defense early, forcing the Bulldogs out of any offensive flow. Baldwin had just one field goal in the first quarter, a 3-pointer by sophomore Katie Jones.
"I don't know if we were a little nervous or what, but we made a lot of turnovers we don't normally make," Baldwin coach Bob Martin said. "Plus, they're good."
The Bonner Girls may have had added reason to be pumped up for the game as its junior and senior laden ball club had lost three consecutive years to Baldwin in the tournament, Martin said.
The Bulldogs struggled to make shots all night against the bigger braves. Baldwin only managed one field goal in the first quarter, a 3-point basket from junior Katie Jones.
No Baldwin player finished in double figures.
Bonner Springs 51, Baldwin 25
Bonner 14 9 11 17 51
Baldwin 3 6 9 7 25
Bonner: Hoffine 1, Deegan 20, Hernandez 10, Holloway 2, Watson 6, Marx 6, Wilson 4
Baldwin: Dighans 6, Jones 5, Enick 3, Katzar 2, Kehl 5, Cope 5