Concerns may end PACs use as Baldwin City's community storm shelter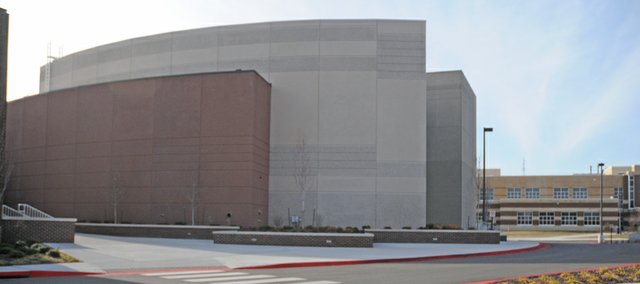 On an active severe weather day last May that ended with tornado sirens sounding in Baldwin City as a funnel was sighted to the west, 65 residents sought shelter in USD 348's new Performing Arts Center at Baldwin High School.
Because of unresolved issues between the district and the city of Baldwin City, the site might not be an option when the severe weather season returns this spring. An emergency management professional has identified numerous concerns regarding its use as a community shelter, foremost of which is whether continuing that practice could potentially put residents in harm.
Also central to the city and district's differences are who would manage the site during severe weather outbreaks occurring during non-school hours, the jurisdictions' liability and what party should pay for that management.
USD 348 Board of Education President Ande Parks told fellow board members Monday the city and district have not found a way to overcome issues associated with offering PAC as a community shelter.
Douglas County Emergency Management Director Teri Smith was invited to the board meeting to define those concerns.
But first, Smith explained the Federal Emergency Management Agency grant, which provided 75 percent of the $4.5 million needed to build a structure capable or withstanding an F-5 tornado, was awarded to provide a safe place for students, faculty and staff during severe weather and not for a community storm shelter.
Among the concerns Smith identified with offering a community shelter were:
• Liability should someone get hurt.
• Authorization to open and close of a shelter's doors. Smith said FEMA rules associated with the grant dictate the doors be closed 10 minutes after a warning was issued. Determining the storm was over and the shelter was no longer needed would also be a judgment call, which might not satisfy some nervous people in the shelter, she said.
• Coordination of who is in charge in case of vacation.
• Student safety. Schools have safeguards to keep outsiders from walking into buildings, but opening the PAC to all comers during school hours could expose students to violent individuals or predators, Smith said.
• Pets. The desire of pet owners to bring their animals to shelters can be problematic, Smith said, citing an example in Montgomery County in which a pet snake shocked one shelter seeker enough to cause a heart attack.
Parks and Superintendent Paul Dorathy were among district representative who toured PAC last week toured with Baldwin City representatives that included Mayor Ken Wagner and City Administrator Chris Lowe. But, Parks said, the district failed reach agreement on the outstanding Lowe said Tuesday the district wanted the city to provide someone to open the shelter during non-school times. The city had reservations about such an arrangement from having talked to Smith and learning of her concerns, the city administrator said.
The city's firefighters and policemen could possibly open the shelter, but they then would be on call to go elsewhere during a storm, Lowe said. Any city employee operating the shelter would have to have training, he said.
"It's their facility; they need to tell us how it is to be ran," Lowe said. "They need to indemnify the city for that."
"If you are going to run a community shelter at that site, it has to be run under FEMA rules," he said, citing the need to lock doors 10 minutes after a warning is issued. "Where it's located, you could possibly be bringing people out of safety to get to that shelter."
Despite the lack of agreement, he wanted city and district officials to meet again on the issue, Parks said. If nothing could be worked out, both the city and the district needed to communicate to the public the PAC was no longer an available shelter.
Board member Sandy Chapman said if no agreement could be reached with the city, the district might work to find other solutions, possibly involving the city's churches.