Bulldogs fall 47-32 in Baldwin Invitational finals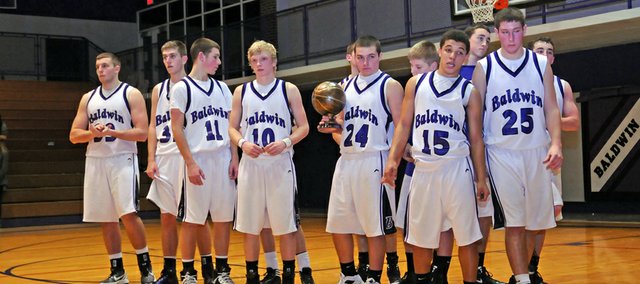 The Bonner Springs boys basketball team weathered several runs, but ultimately held Baldwin at bay, winning 47-32 in the final of the Baldwin Invitational tournament.
The story of the game was defense as the Braves aggressive man-to-man forced 20 Baldwin (8-3) turnovers and held the Bulldogs to just two points in the third quarter.
"We emphasized holding onto the ball," Baldwin coach Dustin Leocher said. "We talked about that before the ballgame. Obviously, we didn't do that."
The Bulldogs had difficulty scoring all night, and after scoring the game's first two points on two free throws, quickly fell behind when Bonner Springs (8-3) went on an 11-1 run.
Although Baldwin would never make up that opening deficit, it came within a 3-point basket of tying the score on several occasions after the Braves had established leads of eight- and seven-points.
"It was a competitive game," Loechner said. "It was more competitive than the final score would indicate."
Bonner Springs coach Andy Price agreed, praising the Bulldogs' defense.
"During timeouts, our guys said they were frustrated because they couldn't do want they wanted on offense," he said.
Price pointed to the eight seniors on his club and the many sophomores playing important minutes for the Bulldogs.
"They'd been there before," he said of his seniors. "I think that was the difference."
The Braves enjoyed a 23-18 lead at the opening of the second half and appeared to put the game away by holding Baldwin to just two points off a pair of free throws in the third quarter.
But early in the fourth quarter, the Bulldogs fought back with a 3-pointer by sophomore Cornell Brown and a basket in the lane by Gaylord.
A pair of three-point shots by Jordan Jackson and J.J. Jackson, the latter one falling with 3:20 to play, once again gave the Braves a comfortable cushion. Bonner Springs then started running the clock on offense forcing Baldwin to foul.
The strategy was without benefit as Brett Steuart, who Price said had struggled at the line before the tournament, hit six free throws.
Steuart and teammate B.J. Watson were named to the10-member all-tournament team, as were C. Brown and Gaylord of Baldwin. Others so honored were Jason Stoneking, Anderson County, Brandt Patterson, Augusta, C.J. Vallejo, Bishop Ward, Jack Steadman, K.C. Christian and Austin Johanning, Perry-Lecompton.
Baldwin will have nearly a week of practice before playing Friday at Osawatomie.
Bonner Spring 47, Baldwin 32
Bonner Springs 11 12 9 15 - 47
Baldwin 9 9 2 12 - 32
Bonner Springs: Jordan Jackson, 8, Watson, 11, JJ Jackson, 7, Franklin, 3, Dooley, 3, Steuart, 15
Baldwin: Schroeder, 3, Twombly, 2, C. Brown, 12, Burton, 5, Duncan, 1, Cawley, 5, Gaylord, 4