Baldwin Junior High spelling bee becomes marathon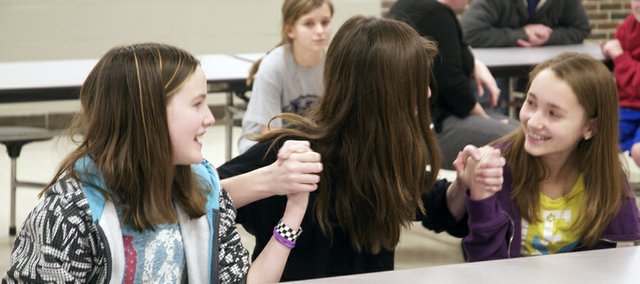 Although she would eventually win the contest, seventh-grader Emma McLaren missed a chance Friday to end the Baldwin Junior High School spelling bee when she incorrectly spelled "glossilla."
The word means speaking in tongues, and McLaren and her friend and fellow finalist competitor, Alaina Schiffelbein, must have thought that was what the bee's moderator, Pam Davis, was doing as she asked the two to spell a series of difficult and obscure words such as dichromatism (color blindness) and omniphibious (like amphibious only more so).
McLaren finally won when she correctly spelled "parody." Her correct spelling put an end to a contest that required 90 minutes to complete, a change of venue and a time out as Davis, BJHS extended-learning facilitator, retrieved a computer from her room when she exhausted her first list of words.
After embracing her friend and fellow seveth-grader, McLaren said she was about to hyperventilate from the long contest.
For the last 45 minutes the two finalists had battled back and forth, unable to end the contest as the words got more and more complicated and obscure as the rounds wore on. Unsure how to pronounce some of the words on the list, Davis retreated to words from earlier rounds, which while tricky or complicated, were at least those the youngsters were likely to have heard.
Earlier McLaren and Schiffelbein proved adept at spelling tricky words like alibi or auxiliary that weeded out the last remaining handful of competitors from a beginning rooster of about 25 contestants. They even found such words as dromedary and affixiate in their comfort zone.
Their edge might have been a trick both used of pantomiming writing their words on their hands.
"It's easier to spell when I'm writing, so I act like I'm writing it out," McLaren said.