Baldwin High School wrestlers in middle of 'grind'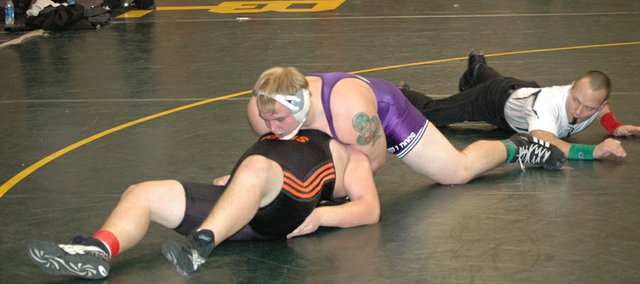 Baldwin High School wrestlers and their coaches came away from a tough weekend tournament in Basehor-Linwood feeling good about their performances.
Assistant coach Joel Eberhart said 32 teams from five states competed in the tournament Friday and Saturday. The slate was filled with numerous nationally ranked wrestlers and state champions.
In recognition of the strength of the competition, the coaches only took six wrestlers to the meet. All scored points and won at least one match. The six-man team managed to finish 13th in a field that included nine 5A or 6A schools.
"It speaks volumes about how well we wrested up there that we were about to beat most other 4A schools there with us with just six kids," Eberhart said.
Baldwin senior Colton Bonner was champion in the 220-pound division, becoming just the third BHS wrestler in history to claim a Bobcat gold medal.
Junior Bryce Shoemaker was second at 126 pounds, beating two state champions along the way before losing in the finals to the Missouri state champion. He defeated the classes No. 1 seed, Dylan Shumacher of Thomas Moore Prep, a three-time state champion and Division 1 signee with the University of Wyoming. In so doing, Shoemaker avenged a loss to Shumacher in the same event last year.
"It's probably his best wrestling since he's been with the team," Eberhart said.
The same was true of Andrew Morgan, Eberhart said. The senior finished fourth in the 132-pound class. He, too, got revenge on a wrestler who had defeated him in the past, C.J. Ikenberry of St. Thomas Aquinas.
January is a "grind month" for the team with numerous duals and tournaments in the coming weeks, Eberhart said.
February will bring the league, regional and state meet, Eberhart said. The Basehor-Linwood meet provided a preview of the regional competition, which will have strong teams from Tonganoxie, St. James Academy, Bonner Springs and Spring Hill, he said.