100 years of attitude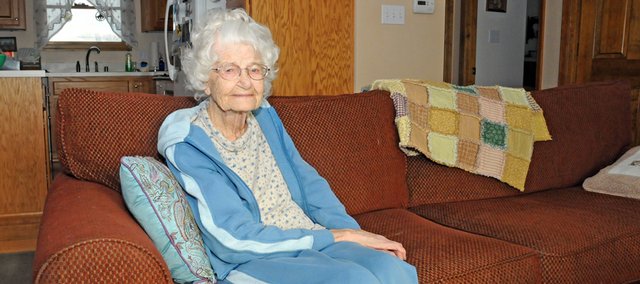 From her large living room window, Ruth Perry can watch traffic zooming north and south on U.S. Highway 59.
Next to those busy two lanes are two fresh and raw concrete strips that will soon be the new highway. Underneath one is the site of her home of more than half a century.
"Progress, I guess," Perry said.
Progress or not, the view is a contrast to her earliest memory, which involves a horse and buggy ride.
"I was 2 ½ years old," she said Monday. "I was at my grandmother's house. We walked down to get the mail. She talked to the postman; they always knew the latest gossip. She told me, 'you have a baby brother. Let's go see him.' I went with her in the buggy.
"I remember I wasn't too impressed. After he got some age on him, we had a lot of fun together."
More than 97 years after that day in Dawson County, Neb., Perry is celebrating 100th birthday. The rural Baldwin City woman hit that milestone today and be feted with a gathering of friends and family from 2 to 5 p.m. Sunday at the Lodge in Baldwin City.
It's not a big deal, Perry maintains, saying hers has been a commonplace, ordinary life. But it's certainly unusual to find a centurion living alone, although her son Charles' house overlooks her three-year-old home and her oldest daughter Sally Dunn visits daily from Baldwin City. Nor will you find many people who grew up on a ranch in the West not long after the closing of the frontier.
"You could see Devil's Tower out of the kitchen window," Perry said. "It was 20 miles away, but it would take you 40 miles to get there."
Isolation and difficult travel was a constant of her youth. The nearest post office, which delivered mail to the ranch twice a week and was home to the closest telephone, was a 6-mile trip, a long trip on a horse.
"When you would go somewhere, you rode a horse," she said. "They were for work, too. To go get the cattle — everything.
"My mother got our first car, a 1918 Oakland. They took us for a ride when they brought it home. I sat in the back seat with my brother. I was scared to death almost."
There was always something to keep her busy on the ranch, sewing, cooking or other chores. One other passion helped shorten the long Wyoming winter nights.
"I read a lot," Perry said. "I always loved to read."
When she was 16, her mother went to care for one of Perry's grandparents, caught pneumonia and died.
"She overworked herself," Perry said. "I was left to raise my younger sister. I just took over. Those were the toughest times, decidedly."
She managed her new duties with her high school studies, graduating from Gillette High School and going back to the classroom the next year as a teacher at a one-room school.
"I had 10 students in a 9-by-11 foot school," she said. "If they were at their desks and someone came, they couldn't get in the door. We had to shove the desks out of the way."
She stayed that first year with the family of one of her students, who was just three years younger than her and with whom she still exchanges letters. The two rode horseback each day the 8 miles to the school and back.
"Mr. McGuire would have the horses saddled and ready in the morning," she said. "Oh, I got such saddle sores on my knees. I rode horses before but not like that."
She continued teaching, leaving the one-room schools for larger consolidated schools. Perry said her circumstances improved enough that she could buy a car.
"My first car was a 1936 Plymouth," she said. "It was brand new. My brother and I went to town and bought it. My father didn't like cars. He said they'd be the ruination of the nation and they should outlaw them.
"When we bought the car home that night, I was afraid what he would say. The next morning, he looked out and asked 'is that your car? There's an auction in town. Let's go.'"
In 1941 with the nation headed for the war she says caused more change than any other thing in her lifetime, she married Charles Perry, who took her away from teaching and Wyoming
"I didn't want to live on dry treeless land all my life, so I decided to try something different," she said. "I didn't see much there. I was teaching at the best rural school in the county. Everybody was moving around. I wanted to see what was next.
"Besides, I liked the guy."
They first moved to Boston, where her husband, a steelworker worked in a shipyard. Unhappy in Boston, she was thrilled when in a year Charles got a job in Stockton, Calif., for the remainder of the war.
With peace, they moved to Nebraska where she had inherited some land and stayed until 1951. Then, they moved to Kansas and the house condemned for the new highway, just in time for the big flood.
"We couldn't go to Lawrence or Ottawa. The bridges were out," she said. "We listened to the radio. They'd tell about so-and-so's farm going down the river."
Her early years in Kansas, she focused on raising her three children.
Perry started teaching again in 1958. Her first job in Kansas was a rowdy bunch of sixth-, seventh- and eighth-graders at Sigel School, a school house gone since the building of Clinton Dam.
"I was green. I didn't know what books to use," she said. "The kids had ran the last teacher out. I told them if they expected to graduate, we'd have to work together. They'd tell me what book to use."
She also finished the college degree she'd started at the University of Wyoming, graduating from Baker in 1961.
"I was scared when I first started in Baker what the kids would think of this 50-year-old woman," she said. "But the Baker kids were always very friendly."
After Sigel, Perry moved on to Wakarusa Valley before taking a position at Riverside Elementary in north Lawrence, where she taught from 1966 until her retirement in 1977. Through the years, the classroom was where she wanted to be.
"I didn't have any interest in being the big boss," she said. "I always liked kids. I got along very well with them. I was friends with a lot of them."
Because of that, she said she most enjoyed teaching at one-room schools and the bonds they encouraged. That experience has made her a supporter of smaller class sizes in elementary schools.
"It isn't the school, it's the teacher," Perry said. "I like it when they can limit the students in the lower grades to 20 pupils. I hope they keep it up. The lower grades need that personal approach."
She's had and is still having a happy life, she said as she considered her 100th birthday that will bring her youngest daughter, Mary Lou Ellis, from Wyoming to join in her birthday celebration with her two local children, four grandchildren and eight great grandchildren. But she added she was happy because she works at it.
"You have to make it happy," she said. "You can't sit around and feel sorry for yourself."
It was with that mindset and optimism that Perry moved on from the forced move from her longtime home.
"When they took my house, I decided to build this one," she said. "They said it was the silliest thing they had ever heard, a 96-year-old woman building a house. I said I was going to build it anyway."