Baldwin City residents, Baker students volunteer to honor
MLK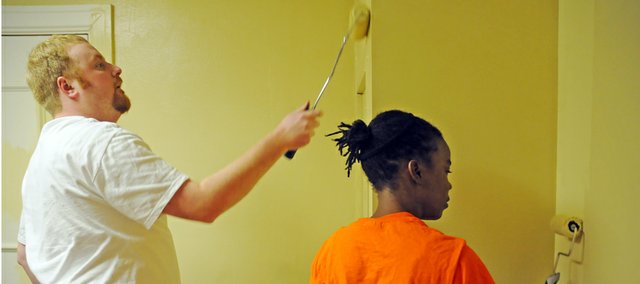 With the holiday, Kalijah Sweeney acknowledged she could have slept in Monday morning instead of helping paint the walls of the food pantry at Baldwin First United Church.
"But why not come out and do something?" asked the Baker University freshman from the U.S. Virgin Islands. "It is for a good cause because a lot of people use the food pantry.
"It looks nice now."
Sweeney was one of three Baker students who accompanied Brett Bruner, Baker director of student life, to the church on a day student teams volunteered at two other city sites and Harvesters in Topeka. In addition to the work at the church, students delivered flyers on the behalf of the Lumberyard Arts Center on the upcoming Chocolate Auction and washed windows at the center, while another team played bingo with residents of Vintage Park.
Bruner said the university had work service days several times a year.
"We usually identify community partners for areas of need and assistance," he said. "This the first year we've done a Martin Luther King Day of service.
"This is a great way for our college students to honor him and his legacy."
Pitching in on Martin Luther King Day made the volunteer work more meaningful, Sweeney said.
"He made it possible for me to be here and actually go to Baker University," she said. "That's how I feel."
Work at the church was not confined to the Baker students or the painting of the pantry. In its basement Fellowship Hall, those young and old pitched in during MLK workday to prepare birthing kits, sewing kits and school kits for distribution by the United Methodist Committee on Relief.
Laura Dickinson, Baldwin First UMC Mission Committee chair, said relief agencies developed the list of item in the kits as essential for the tasks they were to aid.
Brook Morgan, 17 and Baldwin First UMC Missions Committee members, said the birthing kits she and 14-year-old Kymbr Simmons were preparing contained two receiving blankets, a razor blade for cutting the umbilical cord, three pieces of string, piece of plastic sheet and latex gloves.
Morgan said she was happy to give up free time on the holiday for the volunteer work.
"It's a positive thing working together like this doing God's work," she said.