Baldwin basketball team advances in tournament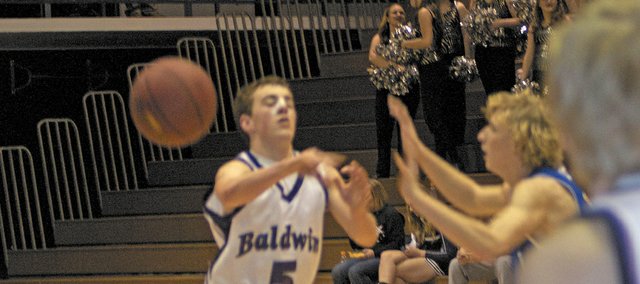 The Baldwin Bulldogs overcame a cold-shooting first quarter Monday to pull away from Perry Lecompton in the first round of the Baldwin Invitational Tournament.
Although the final 65-37 final score was reflective of the top seed against the No. 8 seed in the tournament, it wasn't until about midway through the second quarter that the Bulldogs pulled away. The first period ended in an 8-8 tie as Baldwin continually missed at the rim after successfully working the ball inside, a problem Coach Dustin Leochner said has plagued the team all season.
"Our big guys struggle to finish," he said. "We keep pushing them to go strong to the basket. If we get those guys to finish, we'll be a lot better team."
Loechner was pleased with the team's offensive rebounding, one of the little things the Bulldogs focused on in the game. Those little things were absent in Friday's loss at Spring Hill and other recent games, he said.
The game turned in the second quarter as Baldwin's press and attacking offense got the Bulldogs a number of good looks and shots started falling. Sophomore point guard Cornell Brown gave Baldwin the lead at for good at 13-12 with a layup with 5:20 to play in the second quarter. Senior Clayton Duncan sandwiched two layups for four of his five points around two free throws from sophomore Michael Burton as the home team built the lead. When Burton added two more points from the lane, Baldwin had its first double-digit lead of 21-11.
Senior Tucker Brown fed the momentum with two three-pointers that built the lead to 12 with 1:20 remaining in the half before the Kaws scored the last three points before the buzzer.
Baldwin's pressure defense continued to get turnovers and produce easy shots in the third quarter as the visitors gasped and grabbed their sides when time stopped. The period ended with the Bulldogs leading 44-26.
The fourth quarter was more of the same with Loechner able to clear his bench.
Junior center Caleb Gaylord led all Baldwin scorers with 12 points. Guards C. Brown and sophomore Chad Berg added 10 each, while sophomore Michael Burton had 8 points and T. Brown had 9 on three 3-pointers.
With the win, Baldwin will play Augusta at 8:30 p.m. Friday. Loechner said the game will be a good test against a team from the western two-thirds of the state.