Zuzzio honored with national coaches award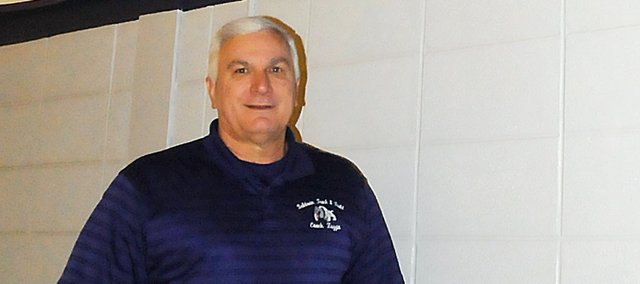 It was more than a year ago when Ted Zuzzio received the honor of Kansas Track and Field Coaches Association Class 4A girls track and field coach of the year, so he wasn't expecting what came Monday.
His previous honor came in the fall of 2010, but it was that award which made the new one possible. On Monday, Baldwin High School Activities Director Gary Stevanus was notified that Zuzzio, longtime BHS girls track coach, had won a national award.
Zuzzio, who also teaches at Baldwin Junior High School, was honored as the 2011 National Federation of State High School Associations Coaches Association National Coach of the Year for Girls Outdoor Track and Field.
"It was out of the blue," Zuzzio said. "I was completely shocked. It's a pretty cool deal. I got something last fall that I had to fill out for sectional or national coach of the year. I filled out the information, but I had no idea I would win.
"It's a pretty special award," he said. "It's sort of humbling to know that I was chosen from all of the coaches around the country."
Zuzzio's teams have won 15 Frontier League title, 20 regional championships and two state titles.
Stevanus was happy for Zuzzio, who has coached girls track and field at BHS for more than 30 years.
"This is a tremendous honor for coach Zuzzio, as well as the community," Stevanus said. "While he has won back-to-back state championships, the award committee also looks at the amount of success a coach has over the course of his/her career. To have the kind of long-term success that coach Zuzzio has enjoyed over his career, shows that not only is he a good coach, but also that we have had some very talented and hard working kids participate in his track program."
Zuzzio also credited his current and former athletes for helping him win the award. If it wasn't for them, he knows this would have never happened.
"The kicker is we have good kids here," Zuzzio said. "We have great kids that want to compete. We have a great coaching staff, our own track, great parent support and kids that want to work. That's the biggest benefit. With the winning comes the spoils, but it all comes down to the kids and we have great kids here to work with."
BHS boys' track coach Mike Spielman was also thrilled for Zuzzio.
"Coach Zuzzio has worked very hard and given many years of service to Baldwin," Spielman said. "It is a very special honor, that he deserves, for all that he has done."
Spielman and Zuzzio both won state championships in track last spring. It was the first time both teams have won the state titles in the same year. The BHS girls also won the state title in 2010, which was a first for the program, which has produced many all-state athletes.
Last year's title came down to the final race for the second-straight year. Baldwin needed to win the race and hope Colby's team finished sixth for a tie. That's exactly what happened and the two teams shared the state championship.
"We didn't know, because we had to worry about the other team," Zuzzio said. "There was doubt as far as how it was going to unfold. I wanted to win first for the kids, but we didn't know if we were going to even have a chance."
The Bulldogs also overcame adversity last year. Their best thrower, Katie Kehl, suffered a season-ending knee injury during the final basketball game of the season. Lyndsey Lober tripped and fell during her regional hurdle race. Lober was expected to medal at state in the 100-meter hurdles.
"We lost some quality points, so we did it the hard way last year," Zuzzio said. "We had some self-inflicted wounds and some unforeseen. But we have great kids and they overcame all of that. All I ask is that they compete and they do it. The coaching staff is also very special and has a lot of experience."
Zuzzio and his Bulldogs are hoping for a three-peat this spring. Many returning girls and a talented freshman class should give BHS a chance.
"We do have a chance for the trifecta," Zuzzio said. "However, there's a lot of time between now and the end of May. We have some new faces that should help us. We lost our hurdlers, but we have some nice freshmen that could help us.
"It's a great thrill to see them win," he said. "That's what it's all about. Ending the season at the state track meet against the best is always a great feeling."