Ojeleye ends Bulldogs undefeated start to season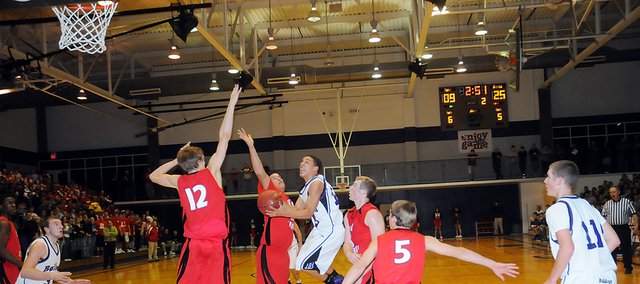 Baldwin High School became the latest victim of Semi Ojeleye.
The Ottawa junior, who is being recruited by NCAA Div. I schools, scored slightly above his average as he led the Cyclones (8-0) to a road win Tuesday night. Ottawa defeated Baldwin 56-33 as Ojeleye burned the Bulldogs for 34 points.
"It was a great atmosphere and I hope the loss doesn't deter people from coming back," Leochner said. "I told the guys before the game this is why we do what we do. It was a great atmosphere against a great team."
Tuesday's loss was the first for the Bulldogs (7-1). The Baldwin Junior High School gym was nearly packed for the Frontier League foes, who both entered the game unbeaten. Leochner acknowledged that Ottawa was the best team Baldwin faced all season, but he said his team didn't execute.
"He outscored our entire team tonight," Leochner said. "We had some spells of the game where we put Dayton (Valentine) on him and he missed some shots. The problem was when they missed shots, we didn't get the rebounds. They got second looks.
"It came down to not getting rebounds," he said. "We didn't get 50-50 balls and we didn't get back in defensive transition, which we've been working on the last few days. We just got caught watching a little too much tonight."
Ojeleye began the game on fire. He hit his first three shots before finishing the first quarter with nine points. He increased that to 17 at halftime as the Cyclones led 29-12.
"That second quarter killed us," Leochner said. "We played with them for three quarters, but we got absolutely hammered in the second quarter."
Ottawa outscored Baldwin 15-3 in the second quarter. Juniors Dayton Valentine and Tyler Cawley scored Baldwin's only points in the quarter.
The Cyclones opened up a 26-point lead during the third quarter as their star continued to score with ease. He finished the game with five three-pointers.
"Ojeleye is going to get open shots, because he can shoot from 25 feet and he can elevate," Leochner said. "You're not going to be able to contest all of his shots. Dayton is the only guy we have than can kind of match up with him. But Dayton missed the first month of the season and he's still not in shape. He tried hard, but it wasn't quite enough. We tried to send smaller guys at Ojeleye, but he just shot over them. We saw some things that we can use the next time we see them, but we definitely ran into a buzz-saw tonight."
Leochner also acknowledged the Cyclones' height and length gave the Bulldogs troubles. The Bulldogs' backcourt of sophomores Chad Berg and Cornell Brown are only 5-foot-9 and 5-7, while most Ottawa players are over 6-foot tall.
"Their length hurt us quite a bit tonight," Leochner said. "Our lack of size at the guard position definitely showed up tonight. They play a switching man-to-man and our guards couldn't see the passing lanes. I didn't think our posts tried to post too hard. Our post players have to play bigger and use their whole body. I feel like we could have posted better, but their length gave us problems. We thought we could have some counters against it, but we didn't execute tonight.
"This was very disappointing, but I feel very good about our team," he said. "I wouldn't trade our guys for anybody. We will keep getting better and lace 'em up next game."
The Bulldogs will next play at 7:30 p.m. Friday at Spring Hill.
"We have to learn from this and make some adjustments," Leochner said. "We are still in the hunt for a league championship. That needs to be our goal. We have to take care of business at home and on the road."