LAC

"Un-Juried" exhibit opened Friday evening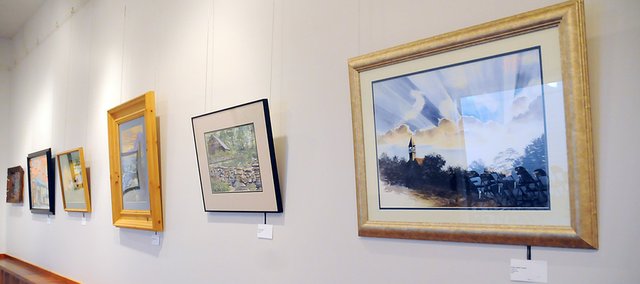 Dozens of local and area artists attended the opening of an exhibit Friday night at the Lumberyard Arts Center.
The LAC "Un-Juried" art exhibit was opened to a small crowd, which mostly consisted of the artists in the show and their families. The LAC volunteers were still pleased with the opening and the quality of work.
"The opening went pretty well," said Sandy Cardens, LAC volunteer. "I had hoped there would be more people, but we probably had 60-70 people. It wasn't bad and we had the place full of art work. "I think all of the artists were there. Most of them brought their better halves and family."
The show is an eclectic collection of two-dimensional pieces submitted by artists from the Baldwin City/Lawrence area. The pieces are not reviewed by a jury but are chosen by the artist in a "curatorial anarchy," according to a news release from the arts center. The show runs through Jan. 28 at the center, 718 High St., Baldwin City.
"We had a lot of comments about the quality of work for a show that's not juried," she said. "We had no idea what we would get, so we were very happy with the art work."
The art in the show was donated by local and area artists. Some of them donated their a piece of artwork for the first time ever. All but one pieces of artwork are two-dimensional paintings and the other piece was a stained-glass piece of art.
"It's a chance for people who might not ever show in the gallery," Cardens said. "We had people who did their first picture for the show. It was also a chance for some to gain experience. I think it was a good experience for all of the artists."
Two awards were given out Friday evening at the exhibit opening. The Best of Show Award went to Lawrence resident Eliza Bullock. Her piece was the only abstract work in the show. A panel of three unanimously chose her as the winner.
"I was just hoping that they would all agree," Cardens said. "Amazingly, they all agreed and they didn't all look at it at the same time. That was excellent."
Baldwin City resident Mary Mitchell won the people's choice award. Her work was a painting of her grandmother.
Several of the pieces are for sale. They will be on display until Jan. 28.
"It was very nice for a January evening," Cardens said. "Of course, the weather cooperated. It was lovely."