BHS

wrestlers finished second at Bonner Springs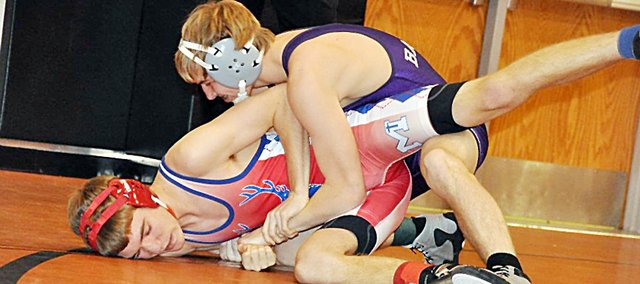 Baldwin High School's wrestling squad began 2012 with its best tournament of the season.
The Bulldogs finished second in the 12-team Dick Burns Mat Classic at Bonner Springs High School. They had 10 wrestlers place, six in the finals and three champions at the tournament.
"It was a really good performance for us," coach Kit Harris said. "Coming into the season, we had five guys that had been to state before, so you knew those guys were going to win matches. After that we had a lot of young or inexperienced wrestlers. Those guys really turned it around this tournament and starting contributing a lot of points. Some made the finals and some placed in the top four. Our young guys wrestling well was the highlight of the meet."
Baldwin began the year with a pair of loaded tournaments at Gardner and Eudora. Harris admitted Saturday's tournament wasn't as tough, but it still had some solid teams, including some who are ranked in Class 4A.
"It's a solid tournament," Harris said. "We just wrestled well."
Baldwin scored 194.5 points, just behind Blue Valley Southwest, who scored 199. Fort Scott (185.5) and Bonner Springs (184) finished third and fourth.
Sophomore Tucker Clark was one of the Bulldogs' three champions. He enjoyed the solid team performance Saturday.
"It was fun," Clark said. "Everyone wrestled well. We are improving as a team."
Clark won the 120-pound weight class. He went 3-0 with one pin during the tournament.
"I wrestled good, but I was a little sloppy in my second match," Clark said. "It was good enough to get the win. I am improving and wrestled better than I did earlier in the season."
Harris was happy for Clark, because he dealt with tough setbacks early in the season.
"Tucker has had a good year, but he's had some unfortunate bracket draws," Harris said. "He wrestled hard and had an easier bracket, so he was able to win his weight class."
The other two champions were junior Bryce Shoemaker (126) and senior Colton Bonner (220). They both went 3-0. Shoemaker recorded two pins and one technical fall, while Bonner pinned all three of his opponents.
"Bryce and Bonner didn't have too tough of brackets, but they still wrestled well," Harris said. "They didn't let that lessen their performance."
Baldwin had three wrestlers finished runner-up in their weight class. Two of those were inexperienced wrestlers on the high school varsity level. Freshman Jon Pratt (106) finished 2-1 to earn his best-finish ever. Junior Jason Von Bargen (160) went 3-1 Saturday to place second.
"They wrestled awesome," Harris said. "Jon beat two great wrestlers. The guys he lost to in the finals is an All-American from Bonner Springs and Jon wrestled a close match against him. Jason is 12-5 in his first full-year on varsity, so he's wrestling well for us."
Senior Andrew Morgan (132) also finished runner-up. He went 3-1 and recorded two pins. He lost to a Bonner Spring wrestler, who would have wrestled at state last year but suffered an injury late in the season, in the finals.
Other top placers for Baldwin included senior Cody Sellers (138) and junior Ethan Beeman (160), who both finished third. Junior Colton Horne (152) placed fifth.
Baldwin will be sending six wrestlers to this weekend's Bobcat Classic at Basehor-Linwood, which is said to be one of the top, if not the top, tournament in the state. BHS will be sending Pratt, Clark, Shoemaker, Morgan, Von Bargen and Bonner.
"It's probably the toughest tournament we go to all year," Harris said. "We will take six or seven of our guys. There will be teams from five states. It's scheduled like a regional or state meet, where you have to win five or six matches to place. Coaches only bring their top guys, so every match is tough."