BHS

girls drop to .500 after home loss to Ottawa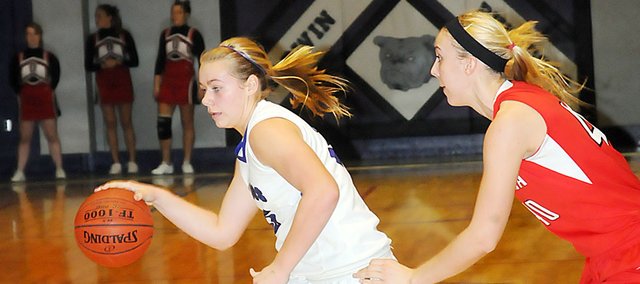 Baldwin High School's girls' basketball team dug itself a deep hole early in Tuesday's contest and never recovered as it fell to undefeated Ottawa.
The Bulldogs (4-4) couldn't find much offensive rhythm against a taller, longer Cyclones' team. Ottawa rolled on to an easy victory, 38-19.
"They are a very experienced team," Martin said. "They've had a lot of success. I think we played really well defensively and we gave great effort. We just have to get better on the offensive end."
The Bulldogs struggled offensively all night, but it started early in the game. They didn't score during the first four minutes of the game. A pair of free throws from junior Kailyn Smith got the Bulldogs on the board.
Junior Kaitlin Jorgensen hit the Bulldogs' first field goal. She sank a three-pointer two minutes later to give Baldwin its first basket. Jorgensen led BHS with five points.
Ottawa started the game 6-0 before building a 16-7 lead at the end of the first quarter. That lead jumped to 18 points by halftime as the Cyclones led 27-9.
"We struggled a lot on offense tonight and I think you have to give Ottawa a great deal of credit for that," Martin said. "We had bee making some improvements offensively, but they are so good defensively, it took us out of everything we wanted to do. We got frustrated.
"Even when we had good shots, we struggled," he said. "We ended up getting a lot of shots in the lane, but we just couldn't finish. You have to give them credit. We have to get better at a lot of things, but we played a good team tonight."
Baldwin will move on from the loss as it faces another tough team Friday. BHS will play at 6 p.m. at Spring Hill.
"We have to move on and build from this," Martin said. "Spring Hill is a good team with their two best players back from last year. It will be a tough game for us."