Baldwin Education Foundation helps classrooms stay up with technology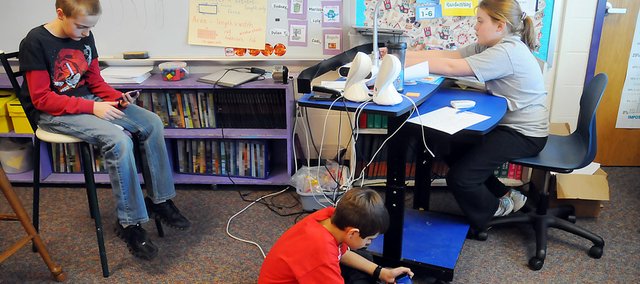 Teachers everywhere have the tough task of trying hard to keep up with ever-changing technology that they use in the classrooms and use it for educational purposes.
It's a constant battle for Baldwin School District teachers, especially those at the elementary level. They already incorporate many technological devices into their teachings, but they must keep staying up-to-date.
One major hurdle in the battle is paying for such devices as Apple iPads or Elmos (digital display devices). That's where the Baldwin Education Foundation has stepped in and donated thousands of dollars each fall to USD 348 teachers. The BEF Innovative Grants have helped teachers purchase those items and make learning more fun and exciting for students.
"We appreciate it, because we couldn't get it any other way," said JoAnn Heins, Baldwin Elementary School Intermediate Center fourth-grade teacher. "For us, it's great and it's what they are used to. They learn so well with this technology."
Heins' purchased an Apple iPad 2 with the money she received from the BEF Innovative Grant. She was one of six elementary teachers to buy an Apple product with the grant funds. The grants combined to total $4,083.
"The kids love that technology and they soak it up," BEF Executive Director Gerstner said. "They really understand it and it really makes them excited to learn when they have access to it.
"We gave away lots of technology this year," she said. "There was third, fourth and fifth grades in those grants. That's what they wanted. It's right there when those kids are picking up that technology."
Kathy Dorsey, BESIC fifth-grade teacher, bought three iPad Touches for the second-straight year with her grant.
"I'm very grateful for the grant," Dorsey said. "It's the only thing that enabled me to do it. The only thing better than this would be six iPads. For what I'm using them for, this works very well."
Dorsey, Heins and other teachers have spent months trying to learn how to use their new technology devices and teach their students at the same time. Since acquiring the iPods and iPads, each teacher has found a different method, but each is happy with how their students use those devices.
Dorsey allows six of her students to use the iPods once or twice a day. They spent 30 minutes each afternoon and some mornings playing applications on the iPods. They aren't playing games, but instead they are using educational apps, which can be in the subjects of reading, math, spelling, science or geography, among other subjects.
"This year we break into groups of about six students," Dorsey said. "Six will be with me, six will be reading a book, six will be on computers and six will be working on the iPods. We do that in the morning and the afternoon.
"It's another way to practice a skill," she said. "Some of the apps have tutorials, but at this age, I like to teach the first and have them practice later."
Dorsey said she doesn't just use the iPods to teach her students and there's no way she would let them use them all day at school.
"You can't learn just from these or just from textbooks," Dorsey said. "Everyone has these or something just like it. To teach them to use it in a learning way, as opposed to playing Angry Birds all day, has been easy."
Heins agreed.
"We try to hit them in all areas," Heins said. "We use videos so they can see it, we do the experiments, we read about it and we have these. We try to hit all aspects as many times as we can."
Heins' class shares one iPad, so it's different, but she uses the device in a similar fashion. She allows one or two students to use the iPad once a day, but they must earn it. Her students earn time by reading a certain number of minutes.
"I only have one, so they earn time to use it by reading," Heins said. "The more they read, the more time they get it. If certain kids are struggling with an area, I will let them use it for that skill. I wish I had 20 more of them. The kids love them."
Much like Dorsey, Heins makes sure her students aren't playing games. They are also using apps that are educational. She said some of the students' favorites include a science, geography and math apps.
"They just find something they're interested in on this," Heins said. "It's their time I give them and they choose what apps they want.
"They are also very great for the kids for tactile movement," she said. "I find that my kids who struggle with math and other things, really do well at this."
Both teachers agree that they have to stay on top of the technological world, especially when it comes to teaching their students during the 21st century.
"You have to adapt," Dorsey said. "The kids will leave you behind if you don't adapt. I enjoy learning new things right there with the kids. I've been doing this a long time and I enjoy finding new methods to teach the students."
They also know that the Apple products are only in the beginning stages of being used in classrooms. They are excited about the future, especially if the BEF continues its Innovative Grants.
"I think we're just scratching the surface of what's out there," Heins said. "There's not a good site that tells you good apps for grade levels or subjects, so it takes time to search or you have to talk to people and find what they have. It's been fun learning how to use it and exciting to think about where we might go from here."