Bulldogs defeat Wildcats, stay unbeaten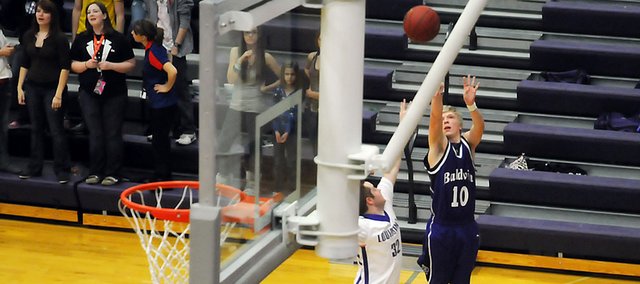 Louisburg — A strong first quarter helped the Baldwin High School's boys' basketball team remain unbeaten this season with a road win Friday. The Bulldogs outscored Louisburg 14-3 in the first quarter en route to a 49-26 victory.
Baldwin improved to 7-0 on the season with its biggest test of the season coming at home Tuesday.
"Guys step up each night for us," coach Dustin Leochner said. "We talk about getting your teammates up and not riding the roller coaster. We've been really good at having guys step up when some guys have off nights."
The Bulldogs' coach credited his team's defense and effort for the quick start and early lead. He said it's been something they've tried to improve upon on during the winter break.
"We've been working on our defense," Leochner said. "Over break, we worked on tightening up our defense and our ability to apply defensive pressure. We also worked on our press and we did a decent job tonight. Our press was good, but our half-court defense could be better. But the guys always play hard every night. We got a lot of 50-50 balls tonight and a good job on the boards, too. We have been emphasizing all of that in practice."
Baldwin stayed in control of the game all night. BHS led 22-9 at halftime, despite scoring only eight points during the second quarter.
Louisburg cut the lead to nine on its first basked in the fourth quarter, but Baldwin answered. Senior Alex Twombly scored a basket, sophomore Chad Berg made a pair of free throws and senior Britton Schroeder and sophomore Cornell Brown each made shots to spark a 15-4 run to end the game.
"That game could have been a lot more in control by us at halftime," Leochner said. "We got to overcome that. We won't play a perfect game, but we need to count on those later in the season."
Four Bulldogs scored at least eight points Friday. Twombly led the team with 10 points.
Baldwin will host Frontier League rival Ottawa at 7:30 p.m. Tuesday.
"It's our biggest game of the year so far," Leochner said. "It's definitely a test and a measuring stick for us. Our goal is to be competitive in March and Ottawa is a team that we may have to go through. We are anxious for the game."
Score by quarter
B — 14 8 9 18 – 49
L — 3 6 10 7 – 26
Individual scoring
B — Chad Berg, 9; Britton Schroeder, 8; Alex Twombly, 10; Tucker Brown, 2; Cornell Brown, 6; Caleb Gaylord, 8; Dayton Valentine, 4; Christian Gaylord, 2.
L — Patrick Storey, 3; Garrett Lesher, 3; Corbin Wertz, 8; Will Garza, 4; E.R. Steffy, 4; Alex Cook, 4.