BHS

girls begin 2012 with league win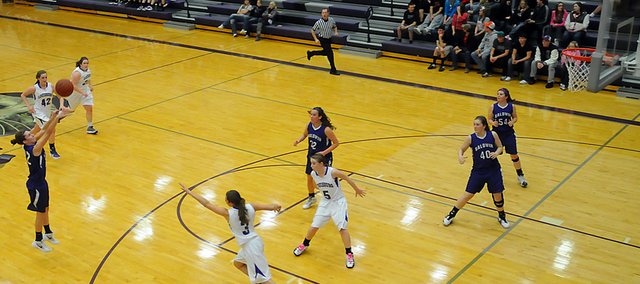 Louisburg — While its baskets weren't falling in the first quarter, Baldwin High School's girls' basketball team relied on its defense as it built a lead before winnings a Frontier League road contest Friday.
The Bulldogs held Louisburg scoreless for the first 8:30 of the game. They only led 7-2, but that soon turned into a 19-6 advantage at halftime. The Bulldogs (4-3) won the game 41-25.
"They worked really hard during Christmas break and it showed tonight," coach Bob Martin said. "I thought we were very good defensively tonight and we played hard. Offensively, I thought we were getting good looks, but we just weren't making our shots early."
BHS sophomore Katie Jones was excited to get back on the winning track after dropping the final game before winter break to Eudora. Jones battled the flu during that game and went scoreless along with junior Katie Kehl. Both are two of the leading scorers on the team.
"It was great to start off the new year with a win," Jones said. "After the Eudora game, we didn't know what was going to happen. We worked hard during the past two weeks of practice. We knew we were much better than we showed last game. It's definitely nice to start off 2012 with a victory."
Neither team scored during the first five minutes of the game. Jones broke the scoreless tie with a free throw. Junior Kailyn Smith made the first field goal when she sank a three-pointer with 2:16 remaining in the quarter. Jones added three more points before the quarter ended.
"It only looked ugly, because we weren't making shots," Jones said. "We were running our offense. We just weren't making the shots. It just looks ugly when you don't make shots."
Baldwin continued to roll in the second quarter. Six Bulldogs scored in the quarter as the they hustled to more loose balls and rebounds than the Wildcats.
Jones and junior Katie Kehl helped BHS finish the third quarter on a 9-2 run. Jones scored five of those, while Kehl added the other four.
"Katie Kehl played tremendous defense tonight," Martin said. "She had a tough assignment, but she was our rock. She needs to be our rock. Plus, a healthy Katie Jones is a pretty good player. That makes a difference."
Jones led all scorers with 15 points. Kailyn Smith chipped in nine from the other guard spot.
Baldwin will host Ottawa at 6 p.m. Tuesday.
"We have a tough next week," Martin said. "We are just taking it one game at a time and if we compete like we did tonight, we will do fine."
Score by quarter
B — 7 12 16 6 – 41
L — 0 6 9 10 – 25
Individual scoring
B — Kaitlyn Barnes, 0; Kaitlin Jorgensen, 2; Katie Jones, 15; Kailyn Smith, 9; Callie Enick, 3; Jessie Katzer, 4; Katie Kehl, 6.
L — Brook Vaughan, 3; Bailey Aiken, 1; Lark Hutchinson, 4; Madde DeShazer, 2; Anna Bell, 8; Brook Frazier, 7.