Investigation continues into cause of head-on crash on
U.S.

Highway 56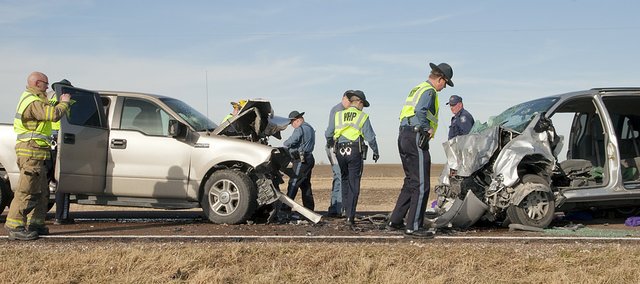 Kansas Highway Patrol troopers Wednesday were still investigating the cause of a head-on collision Tuesday that injured five people, including two Baldwin City children, on U.S. Highway 56 in southwestern Douglas County.
"It could have definitely been worse," Master Trooper Scott White said. "It's unfortunate that people were hurt as seriously as they were, but as of right now they're still alive. We're thankful for that. We hope for the best from here on out."
White said troopers hope to interview Joann O'Brien, a 76-year-old Overbrook woman, who drove a 2006 Dodge Grand Caravan minivan that drifted left of the center line and struck a pickup truck the two children were traveling in just west of Worden. Troopers are trying to determine why her westbound van went into the eastbound lane about 1 p.m. Tuesday.
O'Brien was listed in fair condition Wednesday at Research Medical Center in Kansas City, Mo., a spokeswoman said. Conditions updates at Kansas University Hospital in Kansas City, Kan., were not available Wednesday for two of her passengers, Jamie Ullery, 47, of Overbrook, and Alice Beatty, 51, of Independence, Mo. All three adults were flown via helicopter ambulances to those hospitals, authorities said Tuesday.
Caleb Othick, 12, of Baldwin City, was listed in stable condition Wednesday at Children's Mercy Hospital in Kansas City, Mo., and a hospital spokeswoman said Kara Othick, 10, was no longer listed as a patient there. The children were sent there via ground ambulance Tuesday.
White said Tuesday the driver of the pickup truck, Darren S. Othick, 45, of Baldwin City, was not injured. All six people had their seat belts on at the time of the accident.