Bulldogs working to improve before season rolls ahead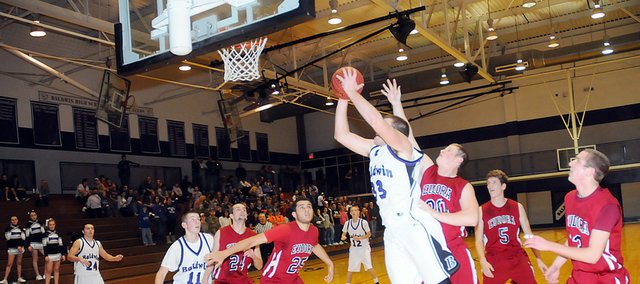 Baldwin High School's varsity basketball teams began the first portion of their seasons in different manners, but coaches Dustin Leochner and Bob Martin are excited about the progress their teams made during the break.
After six games, the BHS boys' team remains unbeaten, winning nearly as many games as it did a year ago, while the girls' squad sits at 3-3. Both BHS coaches are working to keep their teams improving, but they are going about it differently.
"That is the big thing we are trying to guard against right now," Leochner said. "We have bigger goals than being 6-0. Playing Ottawa in our second game back should help motivate us. Our big thing is improving and playing our best ball at the end of the season."
Martin feels good about where his team is headed after an up-and-down start to the season.
"We hope we've improved, but we'll see as we start playing games again," he said. "We feel good about things. Girls are understanding roles and what they are supposed to be doing. Things are a bit smoother."
One way the Bulldogs are working to improve is in the gym. Both teams took a few required days off of practice after the first semester ended, but they began practicing again Dec. 28. During the past week, the BHS girls have been working hard on conditioning and their offense.
"They've been really good," Martin said. "The girls have been working really hard and I think we've made some improvement. We are getting healthier. All of those are pretty good signs."
Meanwhile, the boys have been trying to tweak their defense and minor things on offense.
"Practices have been good, but up and down a bit," Leochner said. "Our first day was a two-a-day and it was really good, but the next day they were a little sore and worn out. The next couple of days weren't so good. Yesterday was a good practice and that was nice to see. Tonight was one of our best and definitely our most competitive practices we've had all season."
It's been 16 days since either BHS team has played a game, but they will both take the court Friday night in Louisburg. Once the Bulldogs take on the rival Wildcats, their schedules will be packed through February.
"They will start coming pretty fast," BHS girls' coach Martin said. "Once we get past the tournament time, it all becomes league play and that becomes the big thing."
After Louisburg, both teams will host Ottawa on Tuesday and travel to Spring Hill on Jan. 13 before taking separate paths to February. The girls will play at Osawatomie on Jan. 20 before three games at the Top Gun Tournament in Wellsville.
Beginning on Jan. 17, the BHS boys' team will host the annual Baldwin Invitational Tournament. It's an eight-team tournament that plays on Jan. 17, Jan. 19 and Jan. 20. The boys will play at Osawatomie on Jan. 26, before both teams play at De Soto on Jan. 31.
"We are definitely looking forward to the BIT," Leochner said. "If we can take business during the next two weeks, we should have a high seed in the tournament and hopefully we can keep an interest in the program growing."
The Bulldogs each host four games in February. They will also be hosting the Class 4A sub-state semifinals and finals in early March.
"We always try to build toward the end of the year," Martin said. "We want to be playing our best basketball there. It's going to be exciting to have it in Baldwin and we're excited to have it here."
The opposing sub-state teams will be De Soto, Eudora, Kansas City Sumner Academy, Ottawa, Santa Fe Trail, Spring Hill and Saint James Academy. The first-round sub-state games will be played at the higher-seeded team.
"It's always good to be home," Leochner said. "But we have to make sure we take care of things and get into that second round, because we don't have a home game guaranteed in the first round. If we can take care of business, we could get one, two or three sub-state games at home."