Building a winner: Ballard has Baker basketball on the rise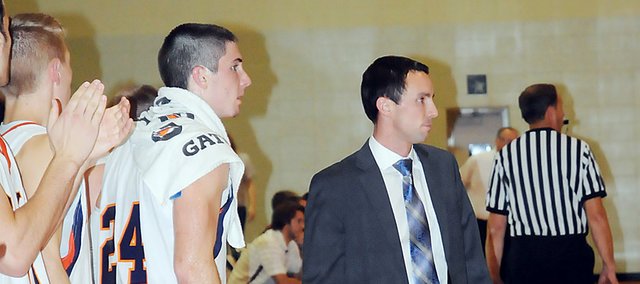 It's nearly impossible to count all of the lessons Brett Ballard learned from Kansas University men's basketball coach Bill Self during Ballard's time as the program's director of basketball operations.
But as the former KU player and staff member embarks upon his own head-coaching career at nearby Baker University in Baldwin City, some of Self's most important teachings keep coming up.
Now in his second season at Baker, Ballard used Year One to lay down some of the basic principles of Bill Self basketball. Key components such as effort, intensity, conditioning and intelligent play all have breathed new life into the BU basketball culture. That cleared the way for Ballard to move on to the second phase of his overhaul ― adding more talent ― and, as a result, the Wildcats have jumped to a 9-3 start and currently sit 2-1 in the Heart of America Athletic Conference.
"We're more talented as a group, 1 through 15," Ballard said. "That's helped tremendously."
BU welcomed eight new players to the roster this season. Seven of those eight are already playing major minutes. But while Ballard was quick to point out that the newcomers have made a major impact, he continues to tip his cap to the handful of players who were around last year as well.
"The guys who were returning knew what to expect," he said. "Last year was a much different system than what they were used to. Knowing that, and being ready for it this year, has helped increase the intensity and competition in everything we're doing."
By many standards, Ballard's first season at BU was a success. Although the Wildcats finished just 12-18 during his first season on the sidelines, it became clear that Ballard's coaching style had elevated the program.
Now, with the team already within three victories of matching last year's win total, Ballard hopes and believes the program is ready for the next step.
"This team has really gelled," he said. "Everybody's bought in and sacrificed. Nobody's going to get 20 shots a game or even play 30 minutes a game, but they're all good with that, and they all go as hard as they can when they're in there and really support each other."
Because the Wildcats have so many talented players, Ballard has utilized 10 and 11 players during most games this season. Like his mentor at Kansas, Ballard said an eight- or nine-man rotation was ideal, but added that he was not about to sit guys who deserve to play just to fit what he's seen work at other places in the past.
"We've got 10-11 guys who all deserve minutes," Ballard said. "That's a good problem to have because we really don't have a drop-off in effort or talent no matter who's on the floor."
The statistics further illustrate Baker's balance, as eight players are averaging between five and 12 points per game, with newcomer Jordan Honore, a guard from Stafford, Texas, leading the team at 12.4 points per contest.
Junior Ben Steinlage (10.4), senior Jack Shortell (9.4) and junior Corey Anderson (7.9) round out the Wildcats' top four.
Ballard said Honore's quickness and ability to get into the lane has made a huge difference in what the Wildcats are able to do offensively this season, and credited Shortell, a high school friend and teammate of KU junior Travis Releford at Bishop Miege, with being one of the team's leaders.
"Jack's the prototypical NAIA kid," said Ballard of the 6-foot-7 post player. "He's not overly skilled, but he plays really, really hard, and he sets the tone for us most nights."
Ballard also said seniors Connor Bechard, Ryan Douvier, Tim Randolph and Joe Wachter have helped Shortell carry the load of leading the team in terms of the work ethic that's expected day in and day out.
While the players on his roster are aware of Ballard's KU background, not all of them are overly impressed by it. Ballard said his current lineup includes a couple of Kansas State and Missouri fans, so the all-KU, all-the-time approach doesn't always work.
"We go back and forth on that all the time," Ballard said. "I give them a hard time, and they give it right back to me. We've had a lot of fun with that."
KU fans or not, Ballard said he believed all of his players enjoyed the opportunity to practice in Allen Fieldhouse and watch Self run the Jayhawks through their own practice.
"That's awesome for our guys to see, because we preach a lot of the same things," Ballard said.
Although Ballard said the HAAC race is wide-open, and the talent throughout the league is incredibly even, he expects his team to pick up where it left off and continue to bring great effort every night.
"I come from a place where winning is expected," Ballard said. "So I am excited and happy about what we've done and where we're headed, but by no means are we satisfied yet."