Cirque du Soleil brings Jackson's story to
KC

stage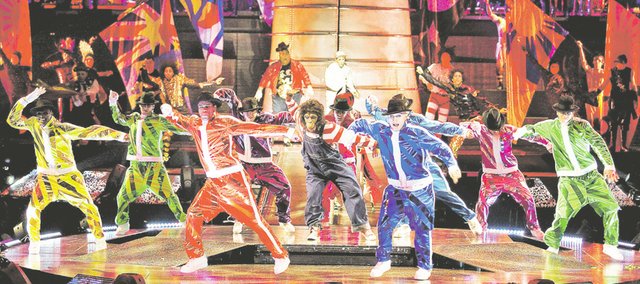 Michael Jackson The Immortal World Tour by Cirque du Soleil, making a stop next month at the Sprint Center, is the culmination of a long-held dream and more than a year of hard work.
Work and planning behind the show got under way more than a year and a half ago in 2009, says Maxime Charbonneau, publicist for the production.
The dream was one Jackson carried himself throughout his lifetime.
"The first thing that's important to mention is that Michael Jackson was a huge Cirque du Soleil fan," Charbonneau said during a phone interview with The Chieftain, adding that Jackson went so far at one point as to visit Cirque du Soleil's headquarters in Montreal. "… He was a true admirer of Cirque du Soleil and the artistry behind a Cirque du Soleil production … he always said he'd like to do something with Cirque du Soleil."
That dream never became a reality while Jackson was alive. But Cirque du Soleil, in collaboration with Jackson's estate, has created a production that Charbonneau says will more than do justice to Jackson's music, dancing and lasting legacy.
Combining the death-defying acrobatics Cirque du Soleil performers are known for with Jackson's beloved pop songs, Charbonneau says The Immortal World Tour is unlike anything Cirque du Soleil audiences have seen before.
"This show's probably closer to a big rock concert than a Cirque du Soleil production," he said.
Instead of a chronological retelling of Jackson's life story, the production brings him to life through the use of lights, music, dancing and acrobatics that Charbonneau said push "the human body to its limits."
None of the performers play Jackson himself, and they don't need to, Charbonneau said. His presence is felt through the 35 songs that are performed during each production — using a combination of live musicians playing accompaniment to Jackson's recorded voice — and his signature dance moves like the moonwalk that dancers spent "hours and hours in the studio" perfecting, as Charbonneau said.
"We go through various stages of Michael's life and you kind of discover what type of human being he was," Charbonneau said. "So you're going to discover who Michael Jackson really was as an individual; as an engaged person … it's inspirations that were used to create this production. You can kind of sit and enjoy the music, Michael Jackson's music, for what it is."
Charbonneau said a team of organizers got together shortly after Jackson's death in 2009 to begin planning the Cirque du Soleil production of Jackson's dreams. That team included Jamie King, a former dancer for Jackson who is now writer and director of The Immortal World Tour.
But King isn't the only former Jackson collaborator to be involved with the production. Five of the show's musicians had played with him before on tours and in the recording studio, Charbonneau said. And the drummer of the show, Jonathan "Sugarfoot" Moffett, even performed with Jackson as far back as when he was lead singer of The Jackson 5.

"So you have that kind of connection with Michael's music," Charbonneau said.
Cirque du Soleil is in it for the long-term with its Michael Jackson The Immortal World Tour. The show kicked off Oct. 2 in Montreal and is currently on an extended stay in Las Vegas. From there, it will make stops in about 60 cities through August 2012 in both Canada and the United States. It will continue on to tour in countries around the globe for the next three and a half years.
Charbonneau says the tour is destiny in the making.
"You put Michael Jackson and Cirque du Soleil together … and it's like it was something that was meant to happen at some point," he said.
Organizers are so sure of that, he said, that plans are already in the works for a second Cirque du Soleil show featuring Jackson's life and music that will be performed permanently in Las Vegas beginning in 2013.
Michael Jackson The Immortal World Tour by Cirque du Soleil will make a stop Feb. 21-22, 2012, in Kansas City, Mo., performing twice at the Sprint Center. For ticket information, visit cirquedusoleil.com/en/shows/michael-jackson-tour/tickets.aspx.