Castle returning to hometown for musical performance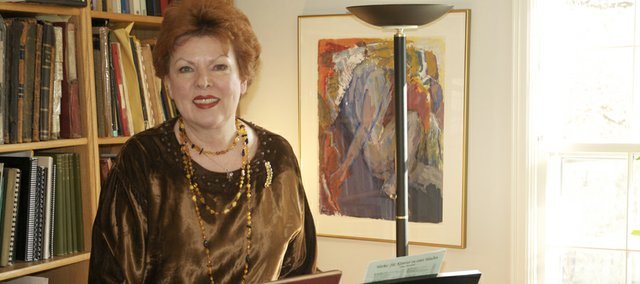 When Joyce Castle talks about her life and work, she talks of New York City, Paris, Rome, Berlin and San Francisco and people such as Beverly Sills, Leonard Bernstein and Stephen Sondheim. But she often refers to Baldwin City and sprinkles in the names of Alice Anne Callahan, Wendell Hicks and other people from her childhood.
She's not name-dropping when she talks about the famous, anymore than teachers would be in mentioning the co-workers and principals they knew during their careers. Last year, mezzo-soprano Castle celebrated her 40th year in opera, a career than included a 25 years with the New York City Opera and 14 at the Metropolitan Opera. She has performed 134 roles in opera and musicals.
Baldwin City residents will be able to hear Castle when she will be the keynote speaker March 8 at the Baldwin Education Foundation's annual luncheon. Castle will conclude that gathering with a short performance in the district's new Performing Arts Center.
"We started last year inviting distinguished alumni to speak with Michael Carriker, the chief test pilot for Boeing," said Kathy Gerstner, executive director of the foundation. "With the opening of the new Performing Arts Center, it seemed a great way to honor her and give the community a chance to hear her and see the facility.
"When you ask people who are Baldwin's distinguished alumni, her name always comes up. And she always mentions Baldwin. She hasn't forgotten her roots."
Castle said she established those roots when she moved here as a fourth-grader with her parents, George and Ethel Malicky, and older siblings, Neal (later a dean and interim president at Baker University) and Georgann. She remembers fondly her "formative years" in the small town.
"I had a wonderful childhood in Baldwin," she said. "I had a wonderful family life and wonderful life in the community."
The small-town environment gave her room to find her voice and to dream.
"There's lots and lots of opera singers from the Midwest," she said. "I think it has something to do with the wide-open spaces. It lets your voice out, rather than be blocked by all the buildings.
"When I had free time with school out in the summer, I would make up plays in the yard by myself. I would pretend I was in the play, and I would do my singing and dancing in the yard — I'm a hideous dancer by the way."
There were also plenty of performances before audiences.
"I was always singing for church events, community gatherings, at school," she said. "I sang at the Vinland Fair. The United Methodist Church — I must have sang there hundreds of time.
"I don't remember not singing. You wanted me to sing, I would stand up and sing."
Her musical talent came from her mother, a home economics and elementary school teacher in Baldwin schools who encouraged Castle and her sister to play the piano and sing.
"Mother was very musical," Castle said. "She had a beautiful voice. She wanted to be a music teacher, but her mother thought she would have a better chance of getting a job if she was a home economics teacher. What a shame."
Her mother later turned her over to Alice Anne Callahan (Russell) for further instruction on the piano. She was one of many in the community who nurtured her musical talents, Castle said.
"I had great support and encouragement from the community," she said. "Women of the Baldwin Music Club would drive me to contests when I was in grade school and high school. Then, they would sit there and listen to me whenever I presented."
Castle recalled Wendell Hicks as a superb high school music instructor and that she benefitted from lessons from Baker University instructors.
She performed in plays and musicals in high school. Those and all musical performances were on stage in the gym.
"There were games, dances and plays — all there," she said, adding she was eager to see the new Performing Arts Center.
After graduating from high school in 1957, Castle went on to Kansas University. She performed in numerous plays and musicals there, toured the Far East with a USO performance of "Brigadoon" after her freshman year and later won an internship with the Dallas State Fair Musical, at which she secured her actor's equity card.
After getting her undergraduate degree from KU, Castle earned a master's from Eastman Conservatory of Music in Rochester, N.Y.
She then paid her dues and developed her voice for the mezzo-soprano roles that would earn her acclaim and success in the 1980s. That maturation included seven years in Paris during the 1970s, during which she performed on a radio opera series and learned stage presence while working with smaller companies in France and Germany.
Castle returned to the states under the influence of Sills, then general director of the New York City Opera.
"Beverly Sills was basically my mentor," she said. "She hired me to the New York City Opera. She gave me every important mezzo soprano role that came across her desk for nine years."
Among the many important roles where those of Mrs. Lovett in the first operatic treatment of Sondheim's "Sweeney Todd" at the Houston Grand Opera and later reprised with the New York City Opera and that of Augusta Tabor in Douglas Moore's "The Ballad of Baby Doe," which she has played in seven productions.
She returned to Kansas when she received a surprise opportunity from KU.
"They made me an offer," Castle said. "It's been very special. There's a lot of very wonderful voices at KU."
But Castle has not stopped performing. Last year to mark her 40th anniversary, she treated Kansas fans to a free performance at KU's Lied Center of "The Hawthorn Tree," a song cycle written for her by Pulitzer Prize and National Medal of the Arts winner William Bolcom that she also performed in New York City.
She plans a cabaret performance for the KU faculty recital March 27 at the Lied Center. This summer, she will perform at Fort Worth, Texas, and return for another engagement at the Central City Opera in Central City, Colo.
"I'm continuing this unbelievable long career," she said. "A life in music is an interesting life. A life of song is very engaging."