Bonner, Morgan bring home state wrestling titles
Bulldogs finish sixth in team standings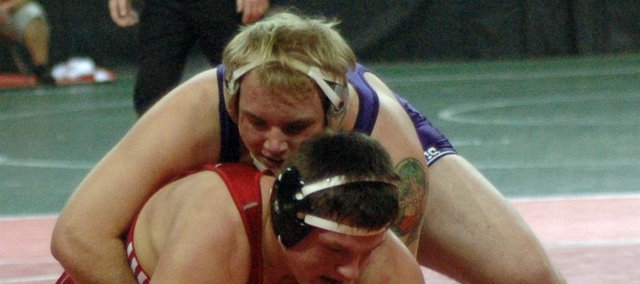 Photo Gallery
Baldwin wrestling at state tournament
The Baldwin High wrestling team finished sixth at the Class 4A state tournament in Salina. Seniors Andrew Morgan and Colton Bonner each brought home gold medals in their respective weight classes.
Salina — Breaking a school record for state finalists wasn't enough for Baldwin High, so when Saturday's championship round arrived, the Bulldogs checked one more box on their to-do list.
Two BHS grapplers won state championships and helped their squad to a sixth-place finish in the overall team standings.
"We've never had three finalists before or two state champions in one season," senior Colton Bonner said. "This feels awesome."
Bonner, who entered the tournament ranked No. 3 in the 220-pound class, won four straight matches to earn a gold medal. He capped off his high school career with a pin of Jeff West's Justin Scott in the finals. Scott, ranked No. 2, defeated Bonner last week in the regional finals at Spring Hill.
The state title marks the end of a transformation for the Bulldog senior, who went just 6-22 in his freshman season. He finished his senior campaign at 44-4.
"I had a choice: either keep doing what I was doing, or I was going to have to change if I wanted to get to the next level," Bonner said. "I hit a lot of offseason camps and worked a lot harder in the weight room.
"That's the greatest feeling I've ever had in my life. I've never felt like this before, knowing that you're that close, if you inch your shoulder a little bit more, you're going to have a state title."
Bonner was joined at the top of the ranks by fellow senior Andrew Morgan, who handed Wamego's Kyle Wilson a 6-0 loss in the 132-pound final. He ended his final season with a 43-9 mark.
Morgan's win avenged a loss he suffered to Wilson earlier this season.
"I'm real excited. Two seniors got revenge wins for state titles," coach Kit Harris said. "They've put in a lot of work."
Junior Bryce Shoemaker also reached the finals, but suffered a 5-1 loss against Louisburg's Austin Hood in the 126-pound championship.
Other Bulldog participants included freshman Jon Pratt (106 pounds), sophomore Tucker Clark (120), senior Cody Sellers (138) and junior Jason Von Bargen (160). All but two of Baldwins' state qualifiers won at least one match.
With four qualifiers back in 2012-13, including one finalist, the Bulldogs have already set their sights on more success when they return to the mat next season.
"We have some kids who can win and score points," Harris said. "Seeing those two seniors who won state titles, that's some good motivation for our young guys."