Baker's Boyd named Kansas Conservationist of the Year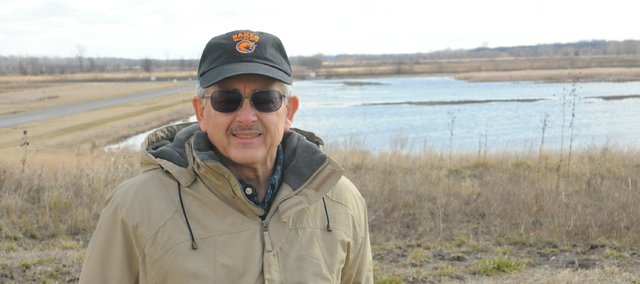 Sitting at a table Friday morning, Roger Boyd concentrated on winding a small strip of paper to form a wheel for a model tractor.
At 64 years of age, Boyd wasn't building an elaborate model as some retirement hobby. The tractor is part of a display of the future Baker Wetlands Visitor Center.
The center is to be built with money the Kansas Department of Transportation is providing for its intention for extending Kansas Highway 10 through a portion of the Baker Wetlands that Boyd has managed for the past 24 years.
Ground will break on Visitor Center project in the fall of 2013 and it should be finished a year later, Boyd said.
"We're assuming once we get the Visitor Center going, we'll get 10,000 visitors a year," he said. "Right now, we don't really keep track, but it's a couple of thousand a year."
If not yet ready for retirement, Boyd has reached a point that his work as a professor at Baldwin University and manager of the Baker Wetlands is being recognized. The latest award came Saturday in Salina, where Boyd was recognized as Kansas Conservationist of the Year at the Kansas Wildlife Federation's annual awards banquet.
In making the award, the federation cited Boyd's work with the wetlands, his teaching career at Baker University and his recycling initiatives.
Boyd was nominated for the award by one of his heroes, Stan Roth, a longtime biology teacher at Lawrence High School. Like the others on his list — Wes Jackson, E. Raymond Hall and his father Ivan Boyd — Roth worked to make a difference locally and in the state, Boyd said.
Boyd said Hall, the former director of the Kansas Natural History Museum, suggested in 1968 to his father, who was also a Baker biology professor and the first manager of the wetlands property, accept land from the federal government that was to become the wetlands after KU passed on the opportunity.
"He jokingly told my dad, 'Baker is used to doing something with nothing. Why don't you guys try it?'" Boyd said. "My budget for several years was $500. I could spend it anyway I wanted.
"We became very good at getting donations and writing grants."
The property Baker received was cropland, which settlers first set about draining for agricultural use in the 1850s. The soil washed down the Wakarusa River valley was fertile, but the low-lying floodplain was always a challenge to farm because of the difficulty finding enough dry time to getting crops planted and harvested.
His father's assumption was that Clinton Dam would control flooding, so he concentrated on converting the property to prairie, Boyd said.
That focus began to change after Boyd's father died in 1982 and he became manager of the wetlands. He secured funding in 1990 from the federal government to remove the tiles that drained the property.
"We plugged up all the leaks," Boyd said. "That's what converted it back to wetlands."
That and a lot of student "slave labor."
"The buzz word now is 'service learning,'" he said. "Students donated a lot of time here and at the (Ivan) Boyd Woods and Prairie."
Under Boyd's direction, Baker University added a wildlife biology degree program, which to his regret has been phased out with his retirement from full-time teaching in 2005. During his career, he reached more Baker students with a human ecology course for non-science majors.
"My approach was to tell them why the environment was important," he said. "When you teach biology majors, they get it. I considered that my opportunity to share that message to humanity majors and business students, who sometimes think environment is a bad word."
It was through his science students that Boyd started the recycling effort for the campus and Baldwin City, the Kansas Wildlife Association cited in its announcement. Bins on campus collect 9 tons a month of paper, plastic, cardboard and some metals.
"I started a recycling program on campus in 1989," he said. "It's always been run by students. The Earth We Are Club is usually involved.
"Recycling has always been a personal passion. I worked with the city to get their recycling started at the train depot."
The past two years Boyd has been leading the effort to add another 300 of wetlands to the site, half near future visitor center and half east of Haskell Avenue. The work has gone well as wetland seeds dormant in the ground sprouted with the introduction of the right conditions, he said.
"I was skeptical," he said. "I thought this would take five to 10 years. But just in the first year, we have already met all our goals."
Although he isn't thinking about retirement soon, Boyd sees that day coming.
"I'll probably go until I'm 70 or so," he said. "Dad taught until he was 78. I don't think I'll won't go that long, but I'll probably greet people at the Visitor's Center and give tours. I'm sure I'll give tours."