Trio of Bulldogs reach finals at state wrestling tourney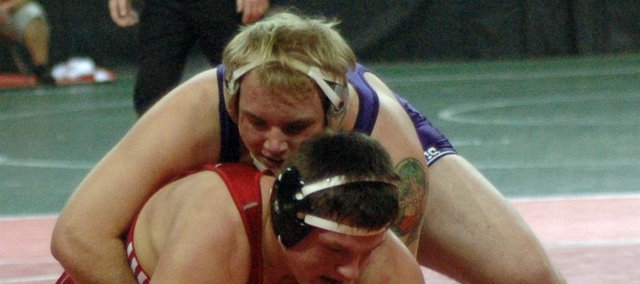 Salina — Before the 2011-12 wrestling season started, Baldwin coach Kit Harris knew adversity would only help his team in the future. Now, as the season comes to a close, Harris' plan is coming together.
Three Bulldogs have earned spots in the championship round at the Class 4A state tournament at the Salina Bicentennial Center.
"That's exciting. (Three state finalists) is a school record, so we've never had that," Harris said. "We've got some kids who have worked very hard for many years. I'm happy for them."
Junior Bryce Shoemaker (126 pounds), senior Andrew Morgan (132) and senior Colton Bonner (220) each went 3-0 in Friday's competition, guaranteeing themselves a shot at a gold medal in Saturday's finale. The trio is now a combined 125-18 this season.
Shoemaker will face Louisburg's Austin Hood in Saturday's finals, while Morgan will see Wamego's Kyle Wilson and Bonner will take on Jeff West's Justin Scott.
"They've got to wrestle like they wrestled (Friday)," Harris said. "We went through a tough schedule. We had a lot of tournaments where we had losses, and that helps them in moments like this."
Two other Bulldogs still have a chance to medal, as freshman Jon Pratt (106) and junior Jason Von Bargen (160) both went 1-1 on Friday. The duo lost in the quarterfinals, but each can reach their respective third-place matches with three wins. Pratt will start with Rose Hill's Hunter Black, while Von Bargen will see Santa Fe Trail's Nathan Forbes.
Saturday's competition is set to begin at 9 a.m.