Rumsfeld visits Fort Leavenworth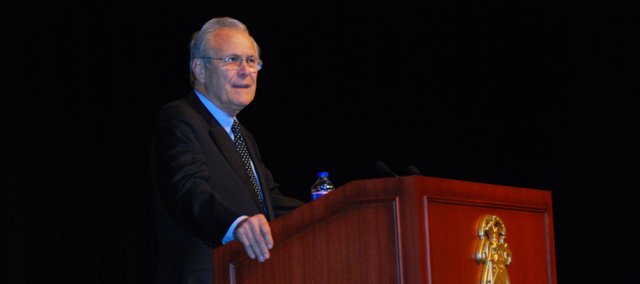 Fort Leavenworth — Donald Rumsfeld recalled his 2001 Secretary of Defense confirmation hearing in which he fielded a question from U.S. Sen. Pat Roberts of Kansas about what worried him late at night.
"I could have said North Korea, but I said it was our intelligence," Rumsfeld said. "I worry about our not knowing sufficiently what's happening in the world."
Rumsfeld spoke Friday at Fort Leavenworth's Lewis and Clark Center to roughly 1,000 U.S. and international officers at the U.S. Army Command and General Staff College.
Rumsfeld spoke to the officers and then fielded a handful of questions, addressing the group for nearly an hour.
The former defense secretary, who also signed copies of his book, "The Known and Unknown: A Memoir," after his appearance, voiced his concerns about cuts in defense. He noted that past budget cuts in the military in defense, and especially intelligence — after World War II and Vietnam, for instance — have hindered security.
Rumsfeld, 79, was the youngest and oldest defense secretary, serving from 1975-77 for President Gerald Ford and then 2001-06 for President George W. Bush.
Navy Lt. Cmdr. Simon Y. Hwang introduced Rumsfeld, rattling off his many careers, positions and accolades, including being a top wrestler while in the Navy.
"It almost makes me sound like I couldn't hold a job," the former defense secretary said, drawing laughter from the officers.
An officer inquired about the surge in Iraq during the George W. Bush administration and how media coverage at the time was zeroed in on the immigration debate. Asked whether that was a strategy to keep the focus off the military actions, Rumsfeld responded with a deadpanned "no."
With regard to his memoirs, Rumsfeld said he debated fitting his writings into a one-year window. He decided instead to take more time and finished them in about four years. He said the memoirs were rooted in more than 4,000 primary source documents, including letters his father sent while serving in the Navy during World War II.
As Rumsfeld wrapped up his talk, an officer ask what characteristics are most important in a president.
He said trust was the greatest tool.
"You can't persuade people if they don't believe you," Rumsfeld said.