County appraiser finds Baldwin City's property values decline the steepest in the county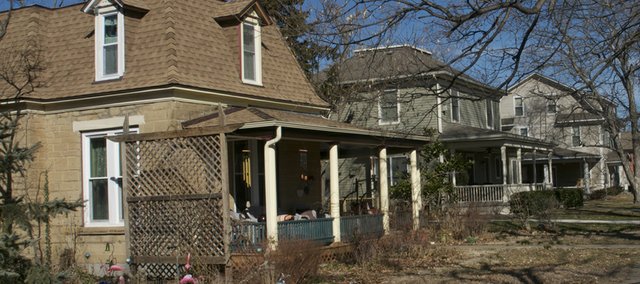 New numbers suggest 2012 is the year the bursting of the housing bubble finally will start showing up on Douglas County property tax bills.
Nearly seven out of every 10 residential properties in the county are expected to see a decline in their fair market values, according to new numbers by the Douglas County Appraiser's office.
"I have always felt like our real estate market has lagged behind the national scene by as much as two years," said County Appraiser Steve Miles. "I think that is what's happening. Hopefully that means we have hit the bottom, but I can't say that with any certainty."
Each year Miles' office is tasked with determining the fair market value, which is the price a piece of property likely would sell for on the open market, for every real estate parcel in the county. The fair market value is then used to compute property tax bills.
Over the last two years, many values have held steady or slightly declined, despite national reports of a major drop in real estate activity. But Miles' new report indicates 67 percent of all residential parcels of property in the county will have their tax value decline in 2012.
The new report found:
• 10 percent of residential properties will have a decline in value of 5 percent or more.
• 27 percent will have a decline in value of 2 percent to 4.99 percent.
• 30 percent will have a decline in value of less than 2 percent.
• 9 percent will experience no change in value.
• The remaining 24 percent will see an increase in their property values, often because the property had been remodeled or improved in some way.
Property owners will receive a change of value notice in the mail around March 1, Miles said. Property owners then will have 30 days to request a hearing to present information to the appraiser's office, if they think their value is wrong.
Miles' office monitors sales throughout the county to come up with fair market values for properties. Miles said sales activity seemed to slow down significantly in the last half of 2011, which made his job more difficult.
Miles also said the growing number of distressed sales — everything from foreclosures to property owners selling their homes at a loss to get out from underneath a mortgage — had made the process even more challenging. Miles said he still is not considering most foreclosure sales as indicative of fair market value because banks are unloading the properties quickly to get the properties off their books.
"But the number of those sales are starting to make me a little bit nervous," Miles said. "They are approaching that point where they could be considered the market in some areas, but not all."
Numbers on foreclosures for the year weren't available Monday.
In terms of geographical differences, Eudora and Baldwin City were the hardest hit in declining values. Miles said Baldwin City saw a median decline of 1.62 percent, Eudora a decline of 1.31 percent, while Lawrence declined 1.23 percent. Lecompton and the unincorporated parts of the county basically held steady. All those figures include both residential and commercial properties. Miles said commercial real estate prices generally fared better than residential values.
The declining property values weren't a surprise to Douglas County Administrator Craig Weinaug. He is estimating the county will have $2 million to $3 million less in revenue for the 2013 budget — unless commissioners decide to increase taxes — in large part because of the declining property values. But Weinaug said he was keeping the decline in perspective.
"Given what has happened in the rest of the country, I would say real estate values have held up remarkably well here," he said.
Weinaug said he expects county commissioners to discuss cutting the current 2012 budget in order to give the county more of a cushion heading into the 2013 budget.