Vinland business expanding in down economy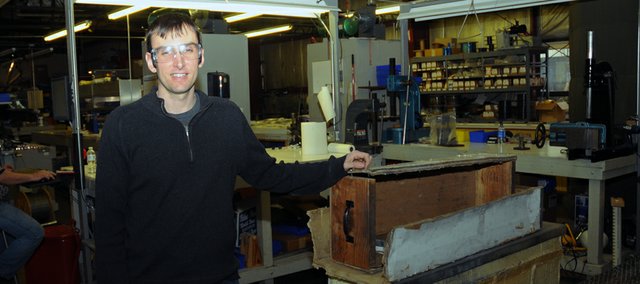 Vinland — Standing in a 24,000-square-foot recently completed, but still empty expansion, McFarlane Aviation general manager Dan McFarlane was asked to define the company's current space.
"Well-utilized," he said about the 20,000-square-foot building the expansion adjoins.
When he relayed the question to his sister, who also is McFarlane Aviation treasurer, Cheryl Kurtz's answer was a less guarded "crammed full."
But that's not an altogether bad condition, considering that two recently purchased fabricating machines added to the clutter when they were pressed into service early to meet demand. The recession has many companies retrenching for better days, but that isn't true of McFarlane Aviation, which makes replacement parts for general aviation airplanes.
"A downturn in the economy doesn't affect us," McFarlane said. "When the economy goes down, people buy replacement parts for older planes instead of buying new ones."
That's true in good times, too. Because of the expense of airplanes, owners tend to keep them flying.
"The useful life of airplanes is very long," McFarlane said. "A large percentage of airplanes we sell parts for are 30 to 40 years old."
McFarlane said the company grew from the aircraft maintenance business his father, Dave McFarlane, and his partner, Fred McClenahan, started in 1970 at Vinland Valley Aerodrome, which McFarlane owned. The two men started fabricating frequently replaced seat rollers and washers for Cessnas, which were soon recognized as superior in design and durability to those available from the manufacturer.
The partners found demand for additional parts, and in 1993 the partners ceased other ventures at the Vinland except basic airport operations to concentrate on the parts business. Expansions to the building followed in 1997 and 2005.
Currently, the company manufactures or markets for other companies more than 2,000 parts, which includes such things as O-rings, throttle and control cables and skins for wing flaps, rudders or aerilons. True to its tradition, McFarlane Aviation continues to improve those parts through design and materials, such as the replacement of fiberglass in one part with Kevlar.
The product line — all approved by the Federal Aviation Administration — fills a 100-page catalog company representatives take to the annual Oshkosh, Wis., air show and others around the country.
That direct marketing is supplemented with advertising in aviation magazines, word of mouth and the Internet, which now accounts for 20 to 25 percent of the company's sales, McFarlane said.
The product line continues to expand.
"We have a very long list of new products, some FAA-approved and some awaiting approval, " McFarlane said. "Some are drastically different."
The growing product line was one of the reasons behind the $2 million expansion the company had been planning for the past four to five years, McFarlane said. Once the finishing touches on the new building are completed, the company will expand general, sales and engineering office space as finished product storage and shipping is moved to the new building. The added production space will also be welcome.
"It will make us more efficient," McFarlane said. "We were getting so crowded efficiency was a challenge."
Running the operation in an unincorporated town without a sewer system or three-phase electricity does present challenges, but the company chose to expand in Vinland in large part because that was what its employees wanted, McFarlane said.
"We looked at quite a few options in neighboring communities and available industrial parks," he said. "We considered other options quite seriously.
"We stayed where we are because our employee base told us they enjoy where we are and have strong opinions about the current location."
The company's attention to the 46 people it employees as machinists, assembly technicians, engineers, shipping clerks and salesmen is revealed in the expansion. An open space between the two buildings was preserved for an outdoor garden and lunch area, and an expanded lunchroom, fitness room and showers are available in the new building.
McFarlane Aviation's workforce will continue to grow with the expansion and new production line.
"We're not the type of company that will go out and hire 50 people at a time," McFarlane said. "The last couple of years, we've been hiring four to six people a year. We plan to continue at that pace."