Baker University Mulvane Hall expansion going well with mild winter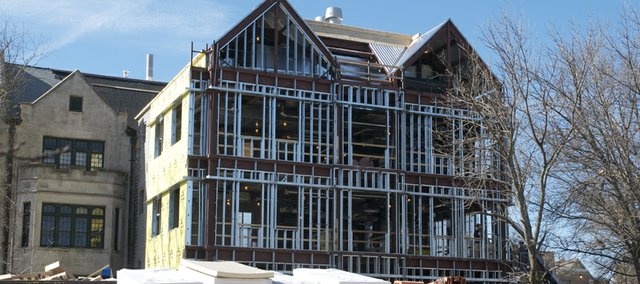 Baker University's science professors and students are hurrying to finish their lab work before spring break. This is because starting March 19 Mulvane Science Hall will be closed to all but construction workers with J.E. Dunn.
The Mulvane transformation started in October 2011 and includes not only a renovation of the current science hall but the 9,000 square-foot addition to be called the Ivan L. Boyd Center for Collaborative Science Education.
"Depending on how things go, we're hoping that we can be into the new part of the building and moving into our offices and into the labs that are in the new part of the building by Aug. 1," said Darcy Russell, professor of biology.
Russell, who is an alumna of the university, has been the lead faculty member on the project since it was first in its planning stages over 10 years ago.
"My job has been to express faculty wants, desires, needs, preferences to the architects and work with them, and now I'm doing the same thing with the construction company," Russell said. " We're starting to work on ordering the furnishings for inside the building, and I've also coordinated the move out of the building. And I will be coordinating the move back into the building."
Mulvane's transformation not only will include the addition to the back of the building, but also some new perks for science students.
"Right now if you go to Mulvane and you're waiting for class, you sit on the staircase because there's no place to sit in that building," Russell said. "We (are building) two pretty big student lounge areas in the building for students."
Mulvane will also have tables and work areas so students can work on problems or projects together.
One thing the building isn't going to have a lot of is classrooms.
"We're only going to have one traditional classroom, so we're going to have a lot more lab space and a lot less classroom space," Russell said.
That's because classes can be taught in any building on campus but labs must be in Mulvane.
Jackie Thompson, a senior chemistry major, has been looking forward to the renovation of Mulvane since first coming to Baker and wishes she would be here to see the end of the project.
"It's kind of the end of my time at Baker and the end of Mulvane; it's quite a finale to my time here," Thompson said. "But it's really awesome to see it flourish and come together."
Although Russell and the rest of the science department remain hopeful they can move into the new addition Aug. 1 and the renovated part Aug. 15, there are no set dates for the completion of the Mulvane project.
"We've been really lucky with the weather and everything is on time, but the hard part is the renovation," Russell said. "When we finally get in the building and get everything (demolished), we don't know what we're going to find."