Ottawa coffee, donut shop fills hole in Baldwin City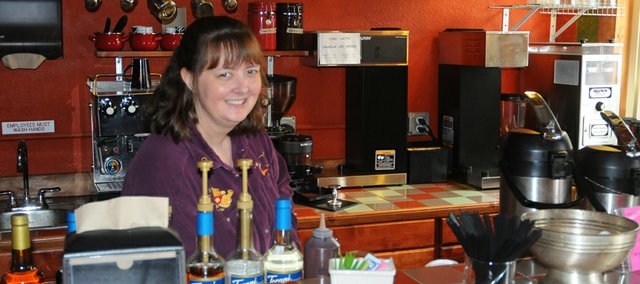 After more than a month in business, Baldwin City's newest coffee shop is searching for how best to serve the needs of its downtown clientele.
Daylight Espresso Cafe opened in the front of The Town Galleria, 718 Eighth Street, in December, ending a four-month void for coffee lovers after the closing last fall of Happy Days Cafe. Like Happy Days, Daylight Espresso occupies the space in the front The Town Galleria, with the site's antique, jewelry and signage shops to the rear.
Manager Edith Oakman said Mike Daniels, owner of Daylight Donuts in Ottawa, bought the coffee shop with a express window to the sidewalk in December.
"I managed Daylight Donuts in Ottawa for Mike for four years," Oakman said. "When he bought this place, he asked me to come manage the Baldwin place."
The coffee shop, open from 7:30 to 11:30 a.m. Monday through Saturday, offers espressos, lattes, cappuccinos and regular coffees plus a full line of doughnuts and pastries delivered fresh daily from the ovens of Daylight Donuts of Ottawa. A breakfast of biscuits and gravy also is available.
Oakman said the shop now caters to several different sets of clients, from parents taking children to school, those working at the bank and other downtown businesses, Baker University students and a twice-a-week gathering of retirees. That customer base keeps things busy from its opening to about 9:30 a.m. Oakman is looking for ways to maintain that business once the morning rush dies down.
"After that, people trickle in," she said. "We're looking for more business at that time. We're getting feedback from customers to see how that is going to work."
Customers who come in to visit the other ventures sharing Michael Langrehr's The Town Galleria are one source of business.
"It's worked out real well," Oakman said of the shared space. "While drinking coffee, people wander around his area. His customers say they like our doughnuts and coffee."
A coming expansion of hours and offerings could help build business for all in the building.
"We'll going to be open for lunch soon, as soon as we get an oven in the kitchen," Oakman said.
Special orders of doughnuts and pastries are available through orders placed a night before by calling 785-242-8412, Oakman said.