BHS

wrestlers dominate while claiming league crown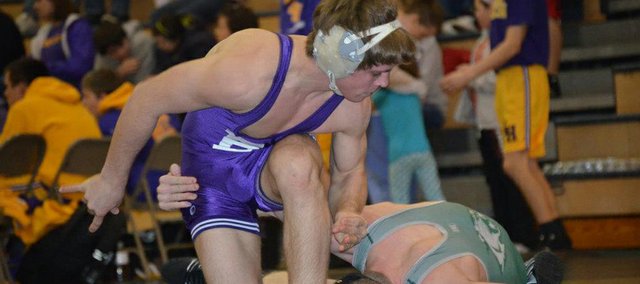 The Baldwin Bulldogs dominated the Frontier League wrestling championship, going undefeated in all six of its dual matches.
Of the 12 wrestlers Baldwin competing, eight emerged with personal league titles.
Coach Kit Harris couldn't say enough about how well his wrestlers performed.
"During it, I was trying not to get too caught up in what was happening." Harris said. "I was just trying to focus on wrestling and keep the guys doing the same. But when it as all over I looked back and realized just how awesome it was, it was a pretty awesome day for our group overall."
Sophomore Tucker Clark was one of the Bulldogs who pulled in a personal league championship. Clark had to work for his, as his match went into triple overtime before Clark pulled in the victory.
"It feels really good," Clark said. "Not just me, but there's a bunch of people on the team who got one. And the team as a whole won one too, so it fells good. Good confidence in the room right now."
Another wrestlers who brought in a title was freshman Jon Pratt, who earned the title with an overtime win and five pins. However, Pratt knows that the competition gets stiffer come regionals.
"You know you've beaten this kid and this kid, but you never know come regionals," Pratt said. "They could've gotten better, then they could beat you. And you don't get to state."
Baldwin finished the regular season with several accolades, and they continue to pile up. Senior Andrew Morgan moved up to sixth on the all-time wins list with 119, with fellow teammate junior Bryce Shoemaker moving up to ninth with just 10 wins less than Morgan.

Senior Colton Bonner is now tied for 15th on the list with 95 wins. Bonner also finished the league tournament with the most falls in the least amount of time, with five in five minutes and four seconds.
Baldwin wrestlers also excelled in the classroom this season. The Bulldogs had all three seniors qualify for KCWA Academic All-State. The award is given to seniors who maintain at least a 3.0, for honorable mention, or a 3.5, for first team, through their four years at high school.
The Bulldogs now set their sights on this weekend's regionals. The team will meet the challenge at 2 p.m. Friday at Spring Hill High School.