Baldwin girls fall when rally comes up short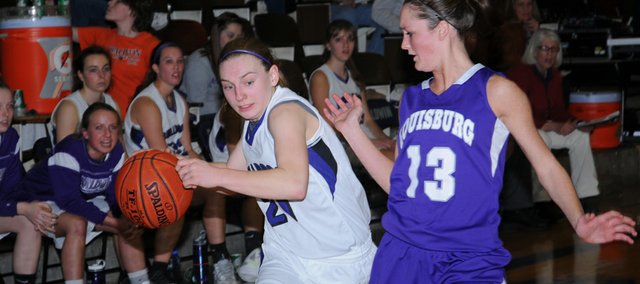 The Baldwin Bulldogs girls team's four-game winning streak came to an end Tuesday when a fourth-quarter rally fell short.
Visiting Louisburg edged Baldwin, 40-39, in a game that saw one of the Bulldogs' stars felled with an injury.
Coach Bob Martin said he was proud of his team's comeback but disappointed in the effort that put it so far behind.
"Tonight was disappointing because we've been playing so well," he said. "I feel like we didn't come out with intensity. They were getting the loose balls."
With Baldwin down, 34-23, with 2:55 to play in the third quarter and less than a minute after facing its biggest deficit of the game of 14 points, Bulldog sophomore point guard Kailyn Smith was helped from the gym after hitting her head on the floor. Martin said after the game, he did not know her condition.
The rally Smith started with a free throw continued. The Bulldogs held Louisburg scoreless for 8:38 minutes, erasing the 14-point deficit.
Sophomore Hailey Cope would ensure the rally continued in the fourth quarter when she drove the lane to score with 6:20 left in the game, narrowing Louisburg's lead to 34-25. Junior Kaitlin Jorgensen followed with a 3-pointer to reduce the deficit to six points.
Junior Jessie Katzer would then get active inside, connecting on a traditional three-point play and scoring off an offensive rebound. Cope scored again with 4:04 to play, bring the Bulldogs within one at 33-34.
Louisburg would finally end its scoring drought with a free throw from 6-foot, 1-inc senior Brook Frazier only to see Baldwin tie the score when the Bulldogs would the high-low post to junior Katie Kehl. Unfortunately for the Bulldogs, Kehl would foul out seconds later, taking some of the steam out of the Baldwin comeback.
Kehl, who was coming off two double-figure scoring games, was held to six points. Martin said attributed that to the height of Frazier and 6-3 Louisburg sophomore center Maddie DeShazer but also said his team did attempt to get the ball to the post enough.
"Until the end, we didn't make an effort to go inside," he said. "We had success when we did."
Baldwin has chances to win the game after Kehl's departure. Jorgensen tied the game twice when she converted one-and-one opportunities with 2:19 to play and 23 seconds remaining. In between, junior Katie Jones missed three guarded but good shots on the same possession.
Louisburg's Brook Vaughn hit the game-winning free throw with 5.1 seconds. Her second shot rimmed off, and Jones was able to launch a shot just inside the half-court line that hit the back of the iron.
"We had some good looks at the end, we just didn't get them down," Martin said.
The Bulldogs next will play Friday at Ottawa. The game will start at 6 p.m.
Ottawa already owns a win against Baldwin this season and has a "very good" team, Martin said.