Baldwin City well positioned to benefit from intermodal, chamber members told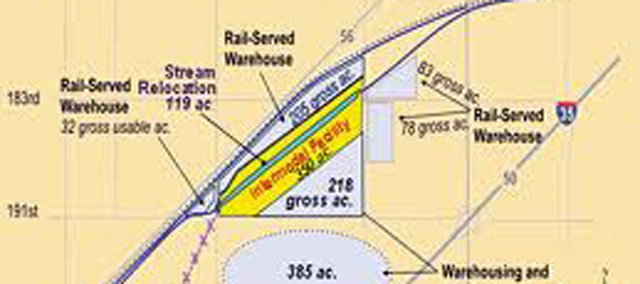 The Burlington Northern Santa Fe intermodal now under construction in Edgerton could add a lot of things to Baldwin City but a huge increase in truck traffic isn't one of them.
Speaking at the monthly Baldwin City Chamber of Commerce meeting Wednesday, Skip Kalb, BNSF director of strategic development, said the intermodal and logistical park warehouse complex would add one to two trucks an hour to U.S. Highway 56 through Baldwin City.
Seventy-eight percent of the truck traffic from the 1,000-acre site on the south side of U.S. 56 between Edgerton and Gardner would head northeast to the Kansas City metropolitan area. Another 20 percent would leave for destinations southwest on Interstate 35.
If truck traffic is not headed Baldwin City's way, opportunity is. Kalb said the community was "very well positioned" to bring home some of the 5,500 off-site jobs the project was expected to spin off.
"My message to Baldwin is the same as I shared with Ottawa, Lawrence and Wellsville," he said. "What you take out of this project is what you want.
"I could see light industrial from warehouses or light manufacturing."
The city could also see a boost in residential home starts, Kalb said.
"I think upper and middle management would love to live in Baldwin," he said.
Another community institution could benefit, too, Kalb said.
"Baker University is the closest university to the project," he said. "The logistics field is a hot field right now. You have in your backyard a lot of opportunity."
With this winter's mild weather, the intermodal is about 40 percent complete and should open in September 2013 in concert with the Kansas Department of Transportation's scheduled completion of a new Interstate 35 interchange at Homestead Road in Johnson County, which will provide access to the facility.
"All those (winter) months we blocked out on our construction schedule, we're working," Kalb said.
The 440-acre intermodal, which is more than 10 times larger than the current BNSF facility in the Kansas City, Kan., Argentine district, will sit astride the busiest railroad line in the world, Kalb said. At its peak before the recession, 125 mile-long trains a day rolled up and down the line connecting Chicago and Los Angles, he said.
Although still down from that high-water mark, BNSF traffic is bouncing back, Kalb said.
"That's a good thing because rail traffic is a leading economic indicator as businesses restock their shelves," he said.
Most of the trains stopping at the intermodal will be carrying piggyback containers picked up in Long Beach, Calif., and filled with goods produced in East Asia, Kalb said. Companies importing the goods will be able to build warehouses in a logistics park that The Allen Group is developing and marketing on either side of the new rail yard.
Kalb said it was projected the intermodal and logistics park when completely built out would create 7,500 jobs on-site and spin off 5,500 more. About 350 of those on-site employees would operate the intermodal and the remainder would work in the warehouses of the logistics park.
Securing future tenants for the logistics park has gone slowly as companies are reluctant to make large capital investments in a slow economy. But Kalb said The Allen Group was aggressively marketing the property.
"If one or two big employers sign up, it will break the ice," he said.