Baldwin City Recreation Commission's card games provide social outlet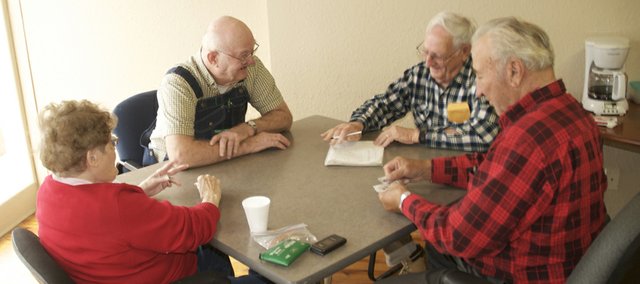 As might be assumed, Truly Ernest Schlup has a hard time bluffing his pinochle-playing partners.
But sitting to his right Monday, Ed Booth said his ability to read Schlup had nothing to do with him living up to his name.
"We've been playing with him so long, we know what he's thinking," Booth said.
Dedicated card players, Booth, Lloyd Bowers, Truly and his wife, Viola, braved the Monday's snow and cold weather to come to the Baldwin City Recreation Commission's downtown headquarters at 715 High Street to play pinochle, trade jokes, a share a little town gossip.
"There's a small group of us," Viola said. "We've kind of become family."
Bowers, a retired carpenter and the quietest player at the table, said he wasn't playing cards, he would be in his apartment "looking at four walls."
That was the purpose of the games the rec commission offers weekdays on a rotating basis, said Baldwin City Recreation Commission director Stevens Friend.
"We wanted to offer a variety of activities to allow people to come in and socialize and enjoy," he said. "It's not just for senior, but that's who take advantage of it the most.
"It's more of a social thing. It helps with mental well being, keeping the mind active and getting out of the house.
And as recreation programs go, it's inexpensive.
"It cost us a little coffee and a few cookies," Friend said.
She looks forward to the Monday and Friday pinochle games as a diversion from her rotary cuff problems, Viola said.
"I won't schedule a doctor's appointment for Monday or Friday," she said. "This is how I get away. I can't even lie down and watch TV."
Pinochle is her game, Viola said. She scoffs at the pitch played at the BCRC as a game for dummies.
"There's very, very few pinochle players anymore," she said. "It used to be a common game, but it's not a popular game anymore."
Further reducing the number of players was Monday's weather.
"We've had eight a time or two," Truly said. "It takes four people for a table, but we have played three-handed games when we had six."
One regular, John Ross, was absent Monday.
"He's got a memory," Booth said. "He can tell you what's been played."
Booth is not as selective as Viola. He visits what he says his wife, Phyllis, calls his second home for other games offered on a rotating basis within the Monday and Friday pinochle anchor. Booth especially likes dominoes but is also aware of what games appeals to others.
"Hand and foot brings them out," he said. "It's a variety of canasta. It's big with the ladies."
Friend said the BCRC was open to adding other games.
"We're always looking for new ideas and new people to join," he said. "There's no sign up. Just come in."
Monthly calendars of games and activities are available at the BCRC or through the mail. To request a calendar, call the BCRC at 785-594-3670.