Baldwin City Council to consider future water supply options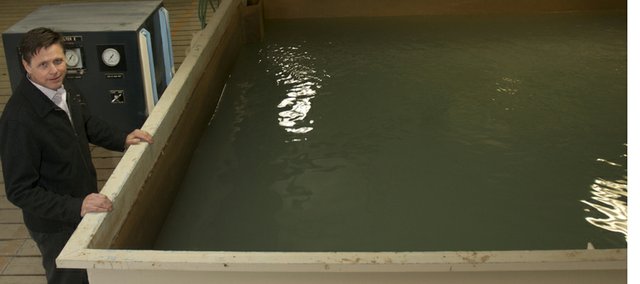 It's difficult to look at the water treatment plant on the Sunflower Army Ammunition Plant and not think of the past.
The water plant sits in what is now an industrial ghost town amid rows of low-slung barrack-like wood-frame buildings and a brick four-story power plant that long ago generated its last kilowatt. Impressive now only in their scale and their deterioration, the buildings constructed in the early days of World War II were once a vital part of the arsenal of democracy that defeated the Axis powers.
The water plant looks at home with its neighbors. It shares the wood-frame construction of many. But unlike most of the surrounding abandoned buildings that have a date with a wrecking ball or bulldozer, the water plant has a future.
In the next two months, the Baldwin City Council will decide if Baldwin City and Wellsville will be a part of that future.
The decision before the council is whether to join a wholesale water district the Sunflower water plant would supply or enter into a new agreement to purchase water from the city of Lawrence.
"I think this could be the biggest decision this council has made since we made the decision to build the power plant," Baldwin City Mayor Ken Wagner said. "This could be a bigger decision, because this could affect this city for the next 30-plus years."
The council will also make the decision for Wellsville, which gets its water from an agreement with Baldwin City.
Almost a year ago, Baldwin City joined the Sunflower Public Water Utility Authority with Douglas County Rural Water District No. 4 and the cities of De Soto and Wellsville. After they formed a board, the four jurisdictions each anted up $11,400 for a feasibility study on using the Sunflower treatment plant to supply the four jurisdictions with water. The board includes a representative of the water plant's surrounding property owner, Sunflower Redevelopment LLC.
The board, led by Chairman Bill Winegar, Baldwin City public works director, released the feasibility study last month. The study's findings were stretched around important unanswered details, such as how needed improvements will be financed and for how long, and how much De Soto should be paid for the value of the plant, easements, water towers and well field it received as one of the public benefit transfers that accompanied the Army's transfer of the closed ammunition plant to Sunflower Redevelopment in 2005.
But much of the framework of the future Sunflower Public Water Utility Authority has been established. The three cities and the rural water district would be equal voting partners in the authority. The study indentifies about $15.2 million in needed improvements at the plant, the well field along the Kansas River west of De Soto and a distribution main that would deliver water from Sunflower to Baldwin City's pump station 6 miles north of the city. Those improvements would be paid for with either revenue bonds or a combination of revenue bonds and state revolving loan funds retired from the sale of water to the four voting members.
A feasibility study found that the Sunflower plant could produce water at a cost of from $3.60 to $4.20 per 1,000 gallons, depending on how those undecided details are resolved. It concludes: "It appears that we can expect the cost of water to be in the neighborhood of $4 per 1,000 gallons once the SPWUA begins paying debt service on the financing in 2015."
Wagner and City Administrator Chris Lowe said it would be the job of the council to do its own due diligence on the arrangement. To that end, the city has hired an engineering firm to do its own evaluation of the water plant's condition, needed improvements and their costs.
The alternative to the Sunflower proposal is for the city to continue to purchase water from the city of Lawrence, from which Baldwin City currently buys water at the rate of $3.83 per 1,000 gallons.
Under a 40-year contract set to expire in 2017, Baldwin City is Lawrence's second largest water customer. But Wagner said before Baldwin City would enter into another agreement with Lawrence, there would have to be a change in what he viewed as a one-sided relationship that has included puzzling and steep price increases used to subsidize Lawrence's growth.
"We've been at their mercy," Wagner said. "We had double-digit annual increases with no input. When we are asked to pay for growth in Lawrence through high water rates or when their wholesale rates are higher than their retail rates, something isn't right."
Wagner and Douglas County RWD No. 4 administrator Scott Schultz, which also buys water from Lawrence, said Lawrence's wholesale rates were based on a complicated formula that factors in the city water system infrastructure improvements and its long-term debt cost. Wagner and Schultz agreed they could not calculate what Lawrence would charge the city or water district for water.
"They showed us a book an inch-and-a-half thick their consultants wrote to come up with rates," Wagner said. " It needs to be something simple and fairly identified. You have to understand the metric.
"If you can't understand it, you shouldn't enter into it."
Although he, City Administrator Chris Lowe and public works director Bill Winegar were told at a meeting with Lawrence city officials the philosophy toward water partners had changed, Wagner wants those assurances written down. Any new contract should include the sale of water at a reasonable rate and a transparent formula for future rate increases, Wagner said.
Mike Lawless, assistant director of utilities for Lawrence, conceded the city's formula was complex. But he said it didn't charge Baldwin City for water system improvements that didn't directly benefit the city.
"As part of our rate model we can take different parts of the system and exclude or include them," he said. "I think we include what we believe are things that benefit our customers."
Baldwin City is an important customer, having purchased 195.5 million gallons of water from Lawrence in 2011. Lawless said. City officials will continue to work Baldwin City representative to make them comfortable with the formula "of find some other way that would be acceptable," he said.
One of the advantages of the Sunflower arrangement is that it would give Baldwin City a guarantee of transparency on important decisions, such as setting water rates, Wagner said.
"Having a seat at the table is very significant," he said. "That was one of the things that was very appealing to me. We would have a vote. In our arrangement with Lawrence, we would not have a vote nor would we ever have a vote."
Wagner said he wasn't disturbed by the age or physical appearance of the Sunflower plant. It has been in operation producing quality water for most of De Soto for more than a decade and there are plans in place for needed improvements, he said.
It also has enormous capacity, Wagner said.
During World War II, the plant could produce 10 million gallons a day. De Soto city engineer and Baldwin City resident Mike Brungardt said it now produced a maximum of 2.5 to 3 million gallons a day for De Soto's use.
The biggest limiting factor is the number of producing wells in the well field, Brungardt said. With the establishment of the water authority, two additional wells would be drilled and three existing wells reconditioned. Initial start-up production at the plant is projected to average 1.9 million gallons a day and it would produce 4 million gallons a day during peak demand.
Agreements have been reached that would give the Sunflower authority water rights to pump 5 million gallons of water a day from the well field.
Brungardt said ownership of that senior water right would be a valuable benefit to authority members.
"If they become members of the wholesale district, they would be part owner of water right 38," Brungardt said. "That's a very senior right. Just for comparison, if you would go get water rights on the river now, it would be in the 4,000s. In drought conditions, that would have a very high priority for continued use."
Another benefit for Baldwin City and Wellsville would be moving its supply from Clinton Lake surface water to Kansas River ground water. Brungardt explained various state agencies charge for the management and maintenance of Kansas reservoirs.
The charge for ground water along the river is just less than 3 cents per 1,000 used and there is no indication it will be raised, Brungardt said. Baldwin City's current contract for water from Clinton Lake is 10 cents per 1,000 gallons and is projected to increase to 25 per 1,000 in 2015 and 85 cents in 2025.
Despite the advantages the membership in the authority could offer, Brungradt said it was understood Lawrence could offer a better deal if it was willing to sell water at a reasonable upfront rate with a formula for future rate increases that Baldwin City officials were comfortable with.
"If Baldwin gets that, they need to take it, and no one here would blame them for it," he said.