Baldwin boys gear up for tough 3-game swing with rout of Louisburg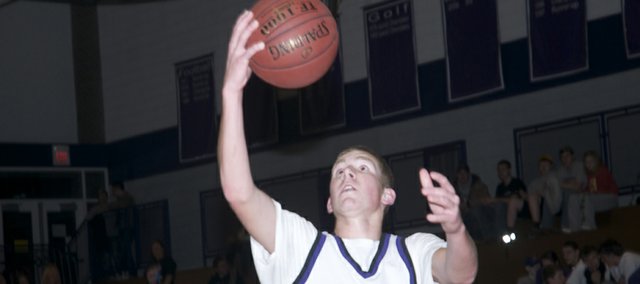 The Baldwin Bulldogs erased a week of frustration Tuesday with an easy, 51-27, victory against a visiting Louisburg Wildcats.
Coach Dustin Leochner said he challenged his inside players in practice the last week to play stronger and more aggressively after last week's disappoint 30-24 loss to Eudora. He was pleased with how seniors Dayton Valentine and Alex Twombly and junior Caleb Gaylord responded.
"Dayton had a good week of practice," the coach said. "I told him, 'I don't care if score a lot of points, just play solid defense and rebound.'"
That's just what Valentine did, in addition to being solid with the ball on offense enough to get Wildcat senior center Garrett Griffin in foul trouble, Leochner said.
It was another game in which the Bulldogs wore down an opponent with stifling defense. Louisburg was within striking distance at the half with Baldwin leading, 24-17, but the Bulldogs pulled away as the defense held the Wildcats to just 10 second-half points and only three in the third quarter.
While the Wildcats were having difficulty scoring, the Bulldogs' press forced numerous turnovers, many resulting in easy baskets.
"They start a freshman point guard," Leochner said. "He's a good player, but he's not quite ready to handle that level of pressure.
"They called a lot of timeouts early. Our philosophy is a timeout is the same as a turnover. When they call them early, they won't have them to use late to help them out."
Sophomore guard Chad Berg got the Bulldogs off to a good start in both halves by draining a 3-pointer in Baldwin's first possessions. It was half the points the Bulldogs would score in the quarter as the period ended with the score 30-20.
And drama that was left in the game disappeared when senior Tucker Brown hit a 3-pointer with 4:50 left in the game and Twombly get a steal off the press he converted into a layup, putting Baldwin up 41-22.
Berg led the Wildcats balanced scoring with 11 points. Senior Clayton Duncan added eight and Twombly and sophomore Cornell Brown had six points each.
The Bulldogs will now finish the regular season against three teams — Ottawa, Spring Hill and De Soto — they lost to earlier in the season.
Of those tough games none are likely to be tougher than Friday's contest at undefeated Ottawa, a team that has one of the top players in the state in Semi Ojeleye.
Loechner promised a different approach to the game than the one the team took last month in suffering its first loss of the season, 56 to 33, to Ottawa.

"We'll try to put together a game plan," he said. "We tried to play our regular game against them last time."