KDOT

plans safety improvements to Baldwin City's east entrance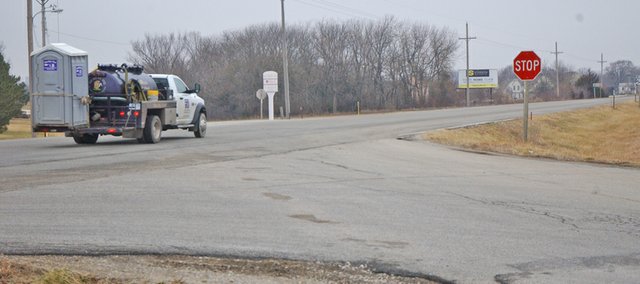 Baldwin City's east entrance will get a makeover with the Kansas Department of Transportation's inclusion of a city-submitted project on its 2014 access management project list.
Last week, KDOT announced that improvements to the U.S. Highway 56/High Street intersection would be one of seven corridor management projects the department would fund for 2014. The access management program makes safety upgrades on identified corridors consistent with plans developed with local participation.
"It's a good project," said Chris Lowe, city administrator of Baldwin City. "It's been a problem intersection. We hear a lot of anecdotal comments about how dangerous it is."
Lowe said the project would eliminate the dangerously sharp angle of the current intersection by curving High Street to the north just to the west of its current alignment. With that, High Street would meet the highway at a 90-degree angle and at the same height.
The new alignment also would be carried on north of the highway, Lowe said. On that side of the highway, High Street would then transition to an east-west frontage road providing access to industrial park properties.
To further improve safety, left-turn lanes would be added to the middle of U.S. 56 east and west of the new intersection, Lowe said.
KDOT has agreed to pay up to $775,000 of the construction cost.
Baldwin City is on the hook for right-of-way acquisition, engineering and utility relocation. Lowe said that now was estimated at $200,000.
Lowe said Douglas County has helped with similar projects in the past but that he has not yet approached the county about partnering on this project.