Chocolate Auction to sweeten Baldwin City's weekend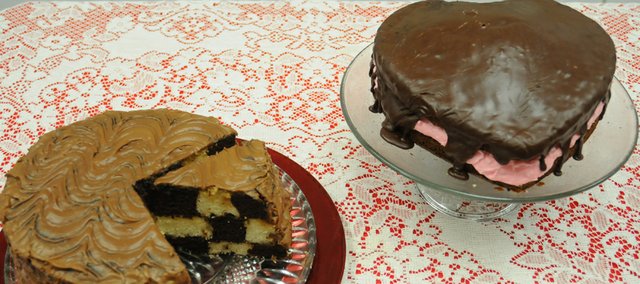 Twenty-four years ago, the Baldwin Community Arts Council hit on a successful fundraising recipe that started with art, mixed in Valentine's Day and added a lot of chocolate.
Now a tradition, organizers are varying the annual Chocolate Auction's successful recipe this year by stirring in the Lumberyard Arts Center, which has now merged with the BCAC. But those attending the Feb. 12 event shouldn't expect much change since the renovated downtown lumberyard building has been its home the past two years, said Sandy Cardens, Lumberyard Arts Center board member.
The Chocolate Auction, like many favorite recipes, was borrowed.
It originated from Baldwin artist Tom Russell's visit to his son Flecther in Brookings, S.D. A sculptor involved in the Brookings arts scene, the son suggested the Baldwin City arts group duplicate a Valentine's Day chocolate auction.
Thanks to the generosity of talented cooks, bakers and artists, the auction was an instant success and continues to grow, said Lumberyard board member Sandy Cardens. Last year, it raised more than $7,000 for student art scholarships, art supplies for Baldwin school district classrooms, workshops, exhibits and other activities.
The community's embrace of the Chocolate Auction is simple, said Lumberyard board member Sherry Bowden.
"Everybody loves chocolate," she said. "There's something about it. It's just satisfying. It's a daily requirement."
Bowden said she mostly limits her daily intake to small treats but "ice cream and chocolate sauce are always a possibility."
Chocolate baked goods are reserved for special occasions, Bowden said. The Chocolate Auction is one of those, and she often brings her heart-shaped chocolate peppermint cake.
"The red says Valentine's Day," she said, admitting she had toned down the recipe somewhat. "The center is supposed to be whipped cream. I didn't go that decadent."
The association with Valentine's Day helps the auction's attendance, too, because it gets forgetful husbands and boyfriends off the hook, Bowden said.
"They don't have to think about it," she said. "They just come down, get something and it's done."
The urge to secure a special gift can drive bidding, Cardens said. Her husband, J.T., once bought two chocolate meringue pies for $105 from well-known Baldwin City pie-maker Mary Jane Chubb.
Bidding for donated art can also get competitive with one of Russell's paintings once fetching $2,000, Cardens said.
The auction also inspires bakers to donate creations beyond the ordinary. Cardens, a painter, has applied her artistic talents to create a chocolate house and a truffle tree for the auction but admits others have outdone her.
"Former arts council board member Christy Carlisle once donated a chocolate painting," she said. "It was done in black and white chocolate. I can't remember exactly what it was, but I think it was a Monet."
"It's just a lot of fun. We'll have a silent auction for children so they can write down their bid on items displayed at a table especially for them."
Refreshments, including hot chocolate from Ruth Ann Nutt's and chocolate punch made from a recipe former arts council president Ruth Dickinson, will be available to all.
The doors will open at the Lumberyard Arts Center, 718 High St., at noon. The silent auction will start at 12:30 p.m. with the live auction beginning at 2 p.m.