Baldwin High and Junior high school students art show opening Friday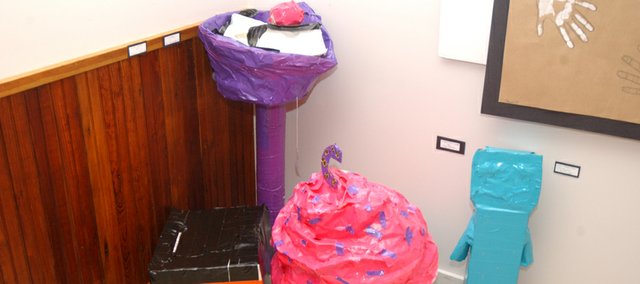 Style is taking on a new meaning for Baldwin Junior High School and Baldwin High School art students. They will be hitting the runway in duct tape fashions Feb. 17 at the Lumberyard Arts Center.
The junior high and high school students combined forces to put together a exhibit at the arts center. The duct tape fashion show, scheduled for 6:30 p.m., is a part of the exhibit's opening.
Christy Carlisle, Baldwin High School visual arts teacher and art club sponsor, said she got the idea for a duct tape fashion show after attending one in Iowa.
"They proposed it at (an art club) meeting and then set the criteria," Carlisle said. "The whole concept just started to generate off of a brainstorm session one afternoon."
The fashion show will include apparel, superhero costumes and accessories.
Although duct tape is the main material used for the fashion show they were allowed to use paper as binding, as well as buttons and fabric fastener to close the apparel.
Carlisle said students have been working on the outfits outside of class and for about a month. Some of the items include handbags, dresses and a mask.
"One girl wanted to do her dress for the prom, so it is longer and more formal," Carlisle said.
The art at the center includes duct tape sculptures, paintings, drawings and other forms of artwork.
The junior high artwork will be in the gallery while the high school art is set up in the main foyer and in the other two foyers. Some of the artwork has also been shown at state competition and won awards.
"We are very fortunate that we have the Lumberyard Arts Center in our hometown and that they allow us to show like this," Carlisle said. "It's a huge donation on their part because they don't get money from this."
Students have not only been making the artwork, but they also put together the gallery show as a behind the scenes learning experience. Carlisle said it teaches the students about the public relations, marketing and the details involved in an opening.
"It's one thing to make the artwork, but then it's another thing to know how to get it out in the public and interact with the public," Carlisle said. "So the artists are going to be there at the gallery."
The student exhibit will be on display through Feb. 29. Gallery hours are from 1 p.m. to 4 p.m. Tuesday through Friday and 9 a.m. to noon on Saturday. The open house will be from 6 p.m. to 8 p.m.