Baldwin City pie making slicing production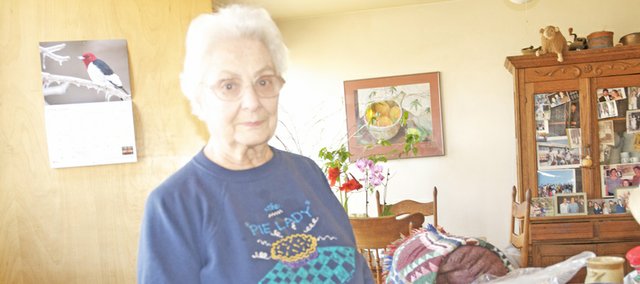 More than 20 years after retiring from the Baldwin school district, Mary Jane Chubb is winding down her second career.
"I'll still make pies, but I'm getting out of the commercial pie business," she said Monday. "I think it's time to move back and enjoy life without making pies all the time.
"It started as a hobby, but it got a little bit bigger and a little bit bigger. It was fun. There were times it wasn't fun. It got a little overboard."
Overboard would be making 2,000 pies a year and filling her Thanksgiving and Christmas holidays with pie making, as the 83-year-old Chubb said she did as recently as two years ago in the Baldwin City home and kitchen she shares with her sister Darlene Potter.
"We have a big oven," she said. "I can bake six pies at a time. I can't see heating that oven up for one pie, so we basically do four at a time."
The production supplied Baldwin Diner with pies the last year and its various previous incarnations of the past two decades, starting with Cindy Trowbridge's Audrey's Café.
Anyone desperately missing Chubb's pies can satisfy the craving Sunday at the Lumberyard Arts Center's Chocolate Auction. Participation in the annual event is a tradition and near obligation for Chubb and her sister. Their brother in law and late sister, Tom and Alice Ann Russell, were instrumental in founding the Chocolate Auction 23 years ago.
"I'll have three pies," she said. "I'll have a chocolate meringue and a French silk. I'm looking through the recipe books for the other one.
"My sister is going to have a Kentucky Derby pie with chocolate, pecans, bourbon and other things."
She got her pie-making reputation by contributing pies to church dinners and other community functions, Chubb said. When she retired in 1991 from her position as counselor at Baldwin High School (she taught home economics before taking that position), Chubb and Potter started taking pies to the Lawrence Farmer's Market. They added the Baldwin Farmer's Market and expanded to making pies for the diner and on special orders for people in the community.
Chubb learned pie making at the apron strings of her mother, who came from a Pennsylvania-Dutch background and made pies for a husband who said he liked two kinds, "hot and cold."

"She made an open-faced apple pie I've never been able to make as well," she said.
For all she learned from her mother, Chubb chose to make use a different pie dough recipe than the one her mother shared, which was as much instinct as science.
"She'd say, 'Add water until it feels right,'" Chubb said. "I use an old, old, old stir-and-roll recipe from a Betty Crocker recipe book. I like it because it measures out everything. I know it's going to turn out right if you follow the recipe."
Another constant of her fruit pies is her avoidance of canned pie filling.
"I think that's a copout," she said. "Fresh fruit is the best, but frozen fruit makes a good pie, too."
Her kitchen might not see as much fruit and pie dough with the end of her restaurant efforts, but she's not hanging her apron, Grubb said. She'll still make pies for special order and for her longtime customers she first met years ago at the Lawrence Farmers Market.
"They have been customers so long, I can't cut them off," she said. "If you have a special order, call me. If I'm not busy, chances are you'll get it."