Zone slows Baldwin boys in loss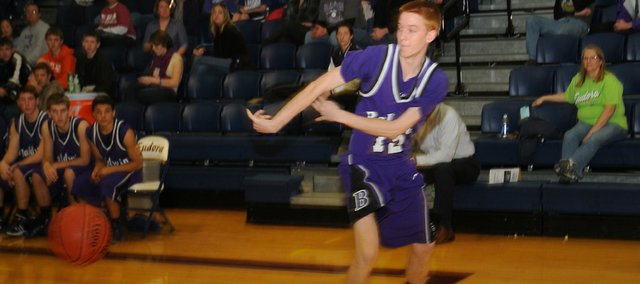 The final score was that of a football game, but Baldwin High School's boys basketball game Tuesday at Eudora had the feel of a World Cup soccer game when every rare score was greeted with a loud and long "goal."
The Eudora Cardinals used a zone defense to slow down the Bulldogs, winning 30-24.
Baldwin coach Dustin Leochner said his team did not respond well to a defense it had rarely faced this year and one Eudora used to prevent the faster Bulldogs from getting into an up-and-down game.
"Zones have a way of making you timid," he said. "We were too content to swing the ball around the outside and not get in the middle of the zone."
Outside shots weren't falling, and Baldwin's big men passed on shot, Leochner said. Adding to the stagnant offense punch was the inability of the Bulldogs to use full-court pressure off a made basket.
"If you looked at the stat sheet, we probably had turnovers on a third of our offensive possessions," Leochner said. "We didn't do a good job on the defensive boards. It's just a lot of little things that when we do them, we win."
Despite its offensive woes, Baldwin entered the fourth quarter tied with the Eudora, 21-21, thanks to its own effective defense.
Eudora quickly grabbed the edge behind senior Jason Bullock, who score on a couple of driving baskets and sank two free throws, giving the Cardinals a 27-21 lead.
A 3-point basket from sophomore guard Chad Berg with a minute to play got Baldwin back to a single possession, but turnovers prevented any comeback.
The Bulldogs will have a week off before playing at home Tuesday against Louisbury. It is time Leochner said his team would use to work on its zone offense.
Tuesday's loss came after Baldwin wore down a visiting Paola team on the Bulldogs winter sports night celebration, winning 49-38.
It that victory, sophomore guard Cornell Brown continually got into the middle of the Panthers' defense to score or draw fouls. Brown finished with a game-high 17 points, going 7 for 8 from the free throw line.
Senior Clayton Duncan added nine points and junior Caleb Gaylord eight, helping the Bulldogs steadily pull away.
Tipoff for the Louisburg game is slated for 7:30 p.m.
Eudora 30, Baldwin 24
Eudora 6 6 9 9 30
Baldwin 7 3 11 3 24
Baldwin: Berg 6, Twombly 2, C. Brown 6, Burton 5, Duncan 3, Valentine 2
Eudora: Pierce 2, Webb 3, A. Bullock 9, Hadl 4, J. Bullock 11, Wellman 1