Baldwin girls stay hot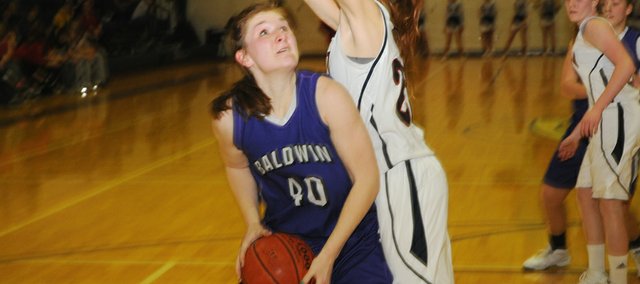 The Baldwin Bulldogs girls surge continued Tuesday with an easy 47-32 road victory over Eudora.
It was the fourth-straight win for a basketball team that hasn't lost since the second round of the Wellsville Top Gun Tournament.
Although Eudora closed the gap later in the contest, Baldwin took the suspense out of the game early. The Bulldogs lead by as much as 17-4 in the first quarter before ending the period with a 17-7 advantage.
Baldwin benefitted early from the Cardinals defensive lapses. Twice in the game's first two minutes, Eudora defenders fouled Baldwin 3-point shooters. Sophomore Katie Jones opened scoring for the Bulldogs when she made 2 of 3 free throws after being fouled on an attempt beyond the line. Kailyn Smith would ring up a four-point play one possession later.
Smith added another 3-pointer after a basket from Katie Kehl, and Jones hit a driving layup off a steal and subsequent free throw as Baldwin built its early lead.
"We got off to a great start offensively," coach Bob Martin said. "We had really good ball movement and were able to hit our open shots."
Martin said he was disappointed his team didn't keep up the same level of play it displayed after building a 23-7 lead with 4:30 to play in the second quarter, but credited the Bulldogs from fighting off every charge the home team made.
The Bulldogs ended the night with three players in double figures. Smith led all scores with 17 points, Kehl had 13 and Jones finished with 11.
Kehl also grabbed an impressive 15 rebounds, Martin said. The improved inside play the junior is giving the team is a key to its recent success, Martin said.
"We're on a little run right now," he said. "It's good time of year for that."
Baldwin 47, Eudora 32
Baldwin 17 6 11 13 47
Eudora 7 5 10 10 32
Baldwin: Dighans 2, Jones 11, Smith 17, Enick 1, Katzer 2, Kehl 13, Cope 1
Eudora: Oller 2, Mays 2, Topil 3, Beck 6, Pringle 3, Webb 6, Moring 6, Lehmann 4