Baldwin High School culinary students prepare for contest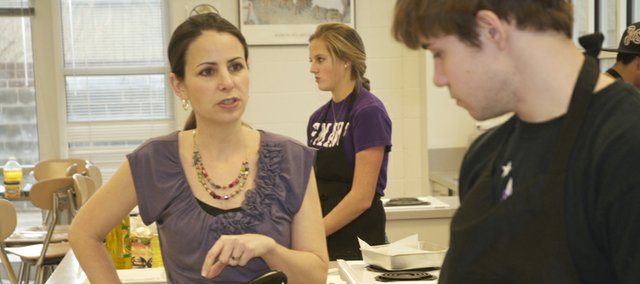 Watching William Simmons pull apart a vegetable Tuesday during a first-hour class at Baldwin High School, a classmate asked "bok choy?"
"Baby bok choy," Simmons answered.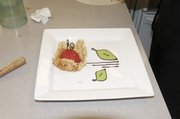 The Asian vegetable was one of the ingredients of the steak with ginger pepper and Thai rub Simmons was preparing. At a workstation behind him, fellow senior Hayley Schwartz was making crab cake appetizers and across the aisle senior Paris Nottingham and junior Jason Von Bargen were involved with a mango-raspberry sorbet that was to be served for dessert with an almond butter cookie.
It was another practice day during the school's culinary 2 class. In about five weeks, the students in the class will prepare the meal in a Kansas Restaurant Association sponsored state competition.
The team will have an hour to prepare the three-course meal in the competition, the same amount of time the morning class affords. Early in the class period, culinary arts instructor Sandra Lawson kept the students on task with the reminder they were on the clock.
"I don't care what, but something needs to be on that burner," she said as she bounced from workstation to workstation to help students.
She has prepared the crab cakes many times in practice, Schwartz said. She is now working on time management and details.
"We'll critique our food at the end of class," she said. "We'll taste it to make sure it's done, the ingredients are right and it has the right texture.
"We're going to be tweaking our recipes right up to the day of the competition."
Cousins Schwartz and Nottingham had their dishes plated before the 60 minutes expired, but Lawson was concerned about how close Nottingham was to the deadline.
"We're going to have to work on that," she said.
Lawson started the school's culinary program eight years ago from a basic food class. The last three years, her culinary 1 students have won the state competition for management, in which they create a mythical restaurant and design its layout, decoration, floor plan, menu and marketing strategy.
Her culinary 2 students have also experienced success, but things came together too late last year for the team to compete. Nonetheless, that class contributed to this year's team.
"They kind of put together the menu we're using," Von Bargen said. "They were too late to go with it. We're just kind of using it."
About halfway through the class, Tanya Sieber arrived to share her professional experience with the class. The food service director at Baker University is the team's mentor. Helping Simmons, she is not impressed with the bok choy.
"It's not really baby; it's just stunted," she said. "See here? It's flowering. You're going to have to cut that out."
The contest and its practices offered class members a good learning experience, Sieber said. It made them concentrate on a goal, taught the to look for the small things that made a difference, gave them experience in working as a team and familiarized them with ingredients and equipment, she said.
The four students share a love for cooking and food, but they do have different career goals. Von Bargen is the only student now confident he will pursue a culinary career. Simmons said he plans to study engineering in college, probably at Kansas University, and Nottingham is headed to Oklahoma State University on an equestrian scholarship.
Schwartz does not yet know what she will study at Kansas State University, but hospitality or something in the food industry are possibilities.
"They (the Kansas Restaurant Association) give scholarships, so I could get a scholarship if we do well," she said "It's just a way to get a foot in the door if I go into that."
The varied career plans are common for her graduates, Lawson said.
"I've had some go to culinary schools," she said. "The majority won't, but they will get a job in the industry somewhere that will help pay the bills in college, so knowing these skills are very helpful."
As for the team, Lawson said she was confident the students would perform well.
"I have a lot of leadership on this team," she said. "The contest just pulls that out of them."