Rocket enthusiast hopes recognition launches Naval career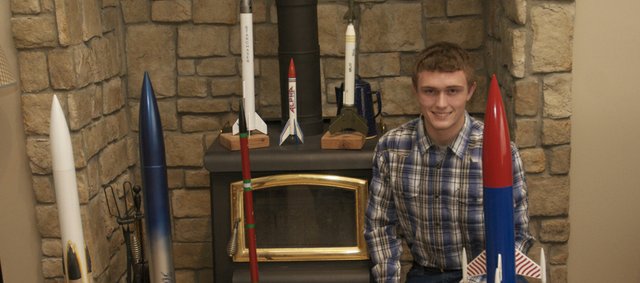 Whether Colton Horne is talking about his past, present or the future that he hopes will include four years at the U.S. Naval Academy, the two words "hard work" lace through the conversation.
"I like hard work," the Baldwin High School senior said. "At the end of wrestling practice when you're dead tired because you've worked so hard, I like that feeling."
Colton should be a happy young man his last semester at the high school. In addition to wrestling and his studies, he will be a member of the school's defending national champion Real World Design Challenge team led by senior veterans Austin Kraus and Abby Clem.
Although a first-year member of the school's team, which has bookended championships around a third-place finish in the national aeronautical competition the past three years, Colton will bring his own national recognition to the effort.
Colton was recently named Senior of the Year for the National Guard's STARBASE program after Baldwin High School enhanced-learning instructor Pam Davis encouraged him to apply for the recognition. With the designation, Colton's name will be included in an annual report on the STARBASE program presented to Congress and President Barack Obama.
National Guard units in 22 states participate in the STARBASE program, which gives hands-on learning experiences in science, math and technology to students ages 6 through 18 with the hopes it will attract them to careers in engineering and technology.
Colton is the son of Tim and Angie Horne and grew up on their farm west of Baldwin City with brothers Ethan and Kaleb. The two older brothers are pursuing agricultural-related degrees at Kansas State University.
Colton looks to break with that tradition. He plans to study engineering and hopes to be accepted to the U.S. Naval Academy or Merchant Marine Academy.
"As the youngest, he's always been exposed to more," his mother said. "He's always been the adventurous one."
Colton traces his interest in engineering and technology to a visit to Forbes Field in Topeka, the home of the Air National Guard's 190th Refueling Wing, with other fourth- and fifth-graders at the now-closed Marion Spring Elementary School for a week of STARBASE activities in 2006.
"They taught us the basics of physics and chemistry," he said. "We built a rocket, went to an aviation museum, learned how planes fly and got to climb all over a truck, tank and other military vehicles.
"I don't think my interest in science and technology would have hit me as soon as it did without STARBASE. The hands-on learning kind of sparked an interest real fast."
After that introduction, Colton took up rocketry in 4-H, winning ribbons in county and state competitions. He has built seven progressively larger and more elaborate rockets and is working on his eighth, welding parts in the farm's workshop and learning to mold other parts out of balsa wood and other materials.
A three-stage rocket could probably soar more than 600 feet into the sky if he were not afraid of losing it, he said.
"Since I put so much time into building them, I'm kind of nervous to shot them too high," he said. "The big ones are more for display."
The Real World Design team won't need his fabricating skills but will welcome Colton's capacity and passion for hard work. Past teams have put hundreds of hours into the competition, and this year's effort will start with full workdays during the holiday break.
The team's task this year is to design an unmanned aircraft to perform a search and rescue of a missing Boy Scout. With the design, the team is required to provide production and operational costs of the drone, he said.
The drone won't actually be assembled but designed using a CAD program, which is part of the software the school received for participating in the public-private competition.
"There won't actually be a working model, but the design will be fully capable of flight," Colton said. "I'll be learning CAD while we put the design together. I'll thoroughly enjoy working with all the software they provide. It's very cool."
Should the BHS Real World Design team win the state competition, as it has every year since the program was introduced in Kansas in 2009, Colton and his teammates will earn an April trip to the national finals.
It would be Colton's second trip to the nation's capital, having spent a week there during a 4-H outing. His father said his son's love for travel has also taken him to Costa Rica and a weeklong camping, hiking and spelunking outing in the Black Hills.
With his wanderlust, Angie said, she is prepared to see her son leave should he be accepted to one of the academies.
"I would miss him, but I would be proud," she said.
Colton said the idea of attending the Naval Academy first came to him during the 4-H trip to Washington.
"We made a trip to Annapolis," he said. "It's a beautiful place.
"I always wanted to join the military but never really knew why. Now I do. I figured out when you had all the opportunities I've had, that's because you live in the United States. If I can serve in the military and keep America safe and free, I can give others a chance to have those opportunities."
The STARBASE Senior of the Year recognition should help his Naval Academy application, Colton said.
"It gets my name out there," he said. "Basically, it's free advertising for me.
"Hopefully (in 10 years), I'll be a Navy officer with a very good degree. Other than that, I see myself working hard and enjoying life."